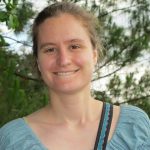 Brigitte Gynther – Latin America Liaison
Contact: brigitte@soaw.org
Brigitte Gynther has served as Latin America Liaison for SOAW since 2014.  She has served as a human rights accompanier in Honduras and accompanied human rights organizations and social movements as well as documented human rights violations.  She has coordinated delegations for SOAW throughout the region. Brigitte has a degree in Anthropology and International Peace Studies from the University of Notre Dame and is the 2009 recipient of the Cardinal Bernardin New Leadership Award from the United States Conference of Catholic Bishops.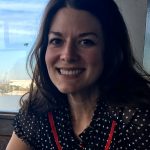 Candice Camargo – Development Coordinator
Contact: candice@soaw.org
Candice is a Los Angeles-born activist living in Bogotá. She has spent the last decade supporting and accompanying nonviolent grassroots movements demanding social and environmental justice in the Americas. Prior to joining the SOA Watch staff collective as the Development Coordinator, she was the Executive Director of FOR Peace Presence and worked with Witness for Peace in Colombia. Candice graduated from Claremont McKenna College with a degree in Philosophy, Politics, and Economics.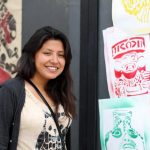 Dévora González – Field Organizer
Contact: devora@soaw.org
Dévora González is a mother to a wonderful little human named Tlecuiani. She is a Salvadoran-Guatemalan, descendent of Pipil and Mayan peoples, woman and mother that was born and raised in Los Angeles to migrant parents that found refuge in the city. Being raised in a Central American community, the political and historical knowledge she gathered stemmed from oral history and narratives of migration from her family, friends, and community. The gaps in her understanding led her to California State University, Northridge where she earned a Bachelor's degree in Central American Studies and Psychology and felt empowered to create positive change in her community.
Aware of the anti-migrant sentiment, structural border conditions that fueled deaths at the desert, and feeling a strong connection to the communities forced to migrate to the United States, she relocated to Tucson, Arizona in 2012. Since, she has been part of the Missing Migrant Crisis Hotline that was a project of the Coalición de Derechos Humanos and No More Deaths, has helped with abuse documentation for the report Deprivation, Not Deterrence by the Guatemala Acupuncture and Medical Aid Project (GUAMAP), and has been active in migrant rights work, resistance, and resilience of Border Communities in the face of militarization.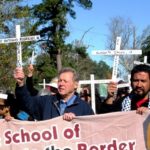 Pablo Ruiz – Latin America Coordinator
Contact: pruiz@soaw.org
Pablo is a journalist and was a political prisoner for two years under the dictatorship of Augusto Pinochet. Based in Santiago de Chile, Pablo's work is oriented towards communications work in Latin America, as well as accompaniment and support of allied human rights groups throughout the continent resisting all forms of militarization, including training at SOA/WHINSEC.
Prior to SOA Watch, Pablo worked in Chile with Amnesty International and the Ethical Committee Against Torture.
Washington, DC Office
202-234-3440
Tucson, AZ Office
202-234-3440
225 E 26th St
Suite 7
Tucson, AZ 85713