Artists
Ojala
Ojala is a tucson based collective of artists, creators, and criminals working to secure liberatory and radical empowerment for marginalized young artists. They are talented young performers and activists. Listen and learn more here: time-your-drugs-album-and-zine-release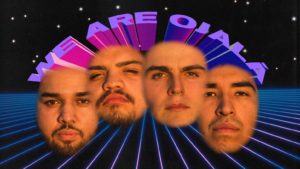 ---
Emma's Revolution
"Fervent and heartfelt" ~The New York Times. Emma's Revolution is the dynamic, award-winning activist duo of Pat Humphries & Sandy O, whose songs have been sung for the Dalai Lama, praised by Pete Seeger, and covered by Holly Near. Emma's Revolution's latest song and video, "I Believe Her", was written in support of Dr Christine Blasey Ford, Dr Anita Hill and all survivors. Longtime performers at SOAW Vigils and Encuentros, Emma's Revolution has shared the stage with Pete Seeger, Holly Near, Rev Jesse Jackson, Amy Goodman, Indigo Girls, Joan Baez and Rev William Barber, among others. The duo has performed at concerts, peace & justice events and mass demonstrations across the country, including the Women's March Oakland, the Poor People's Campaign National Demonstration in Washington DC and the #FamiliesBelongTogether Day of Action in San Francisco.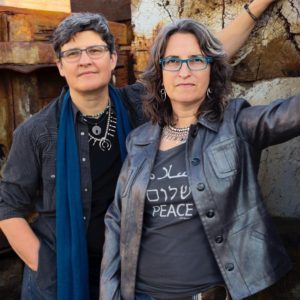 ---
Francisco Herrera
Francisco Herrera is a cultural worker, member of the SOA Watch stage team, recording artist, and community organizer, creating music to support social change efforts through Trabajo Cultural Caminante. He has been an MC for the Encuentro and gatherings at Fort Benning for years now and we are very grateful to have him back! Please check out his songs here www.franciscoherreramusic.com.
---
Chip Thomas
Chip Thomas is a photographer, public artist, activist and physician who has been working between Monument Valley and The Grand Canyon in the Navajo nation since 1987. He coordinates the Painted Desert Project – a community building effort which manifests as a constellation of murals across western Navajo Nation painted by artists from all over the world. Thomas' own public artwork consists of enlarged black and white photographs pasted on structures along the roadside on the Navajo nation. His motivation is to reflect back his community the love and beauty they've shared with him over the years. He sees this work as an evolving dialog with his community. Thomas is a member of the Justseeds Artists Co-operative, an international cooperative of 30 socially engaged artists.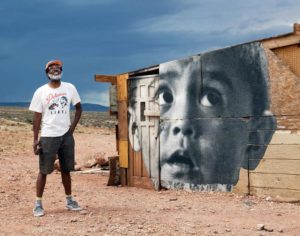 ---
Peace Poets
The Peace Poets are family born of Hip Hop, heart, and hope in New York City. Some have been friends since as early as three years old and over time they have built an artist collective of poets, Hip Hop performers, and educators founded on this friendship and their common love for community and creative expression. Grounded in the power of personal narratives and community, The Peace Poets create and have shared Spoken Word poetry, rap, and Movement Music that responds to social and political crisis in over 40 countries.
The Peace Poets song, I Can't Breathe, written in protest of Eric Garner's murder by the NYPD continued to go viral as actor, Samuel L. Jackson, recorded himself singing I Can't Breathe, and was quoted by USA Today "challenging his fellow celebrities and others to sing what's becoming the anthem of the anti-police brutality movement."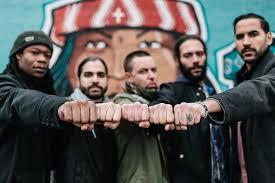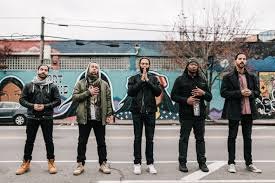 ---
Rebel Diaz
We are Rebel Diaz. Somos hermanos- RodStarz and G1- who grew up in Chicago and came up in The South Bronx. Somos hijos de political refugees from Chile who fled a CIA-funded dictatorship in the 1970s. Revolution raised us, and the culture of Hip-Hop provided us our own Nueva Cancion. We've been doing rebel rap since the Clinton era, sharing our story and those of our people; el barrio, the hood, the poor, los inmigrantes. Our bilingual sound has been shaped by pieces of South American folk, house, and latin percussion gettin down with boom-bap breaks and 808s. With DJ Illanoiz and our band, we've rocked stages in front of thousands at festivals, and in front of dozens in squat house living rooms. We learned about tomas in our international tours, then came back to The Bronx, took over an abandoned building and started a community center, The RDACBX.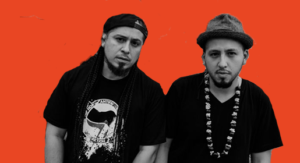 ---
Leilani Clark
Leilani Clark is a native-born Tucsonan of Native (Diné/Santa Clara) and African American heritage. She is a community organizer and activist who has been involved in the Immigrant Rights Movement and fight to preserve cultural education in public AZ schools before, during and after the 2010 signing of anti-Migrant bill, SB 1070, and anti-Ethnic Studies bill, HB 2281. In 2013 Leilani began dabbling in the art of spoken word to confront silence around gender violence in movement spaces and in 2014 she relocated to Las Vegas, NV where she further explored the art of slam poetry. Leilani fired up the local Sin City open-mic scene, where she regularly performed poetry, music and co-hosted Las Vegas's longest running weekly open-mic, "The Human Experience." She returned back to her hometown and she's been actively using the art of slam poetry for local organizing efforts against the violence of border militarization and rape culture.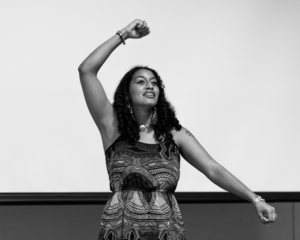 ---
Thea Gahr
Thea Gahr is a queer bilingual printmaker and educator. Working both in Oregon and Mexico City. She is a member of the Justseeds artist cooperative, Escuela de Cultura Popular Martires del 68, Collectivo Cordyceps, and La Furia de Las Calles. Through teaching young people, building community, printmaking and farming across cultures, she strives to empower ideas of social and environmental justice.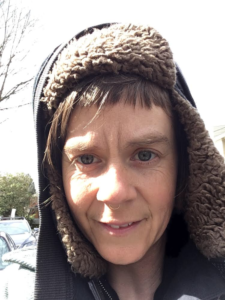 ---
Speakers
Araceli and Taide
Araceli Rodriguez has led her family's six year long struggle for justice since her 16-year-old son Jose Antonio was murdered by Border Patrol agent Lonnie Swartz in Oct. 2012. She has done this while working full time and raising her two young daughters. Araceli's main support in the struggle has been Jose Antonio's paternal grandmother Taide Elena, but she has also been joined by cousins, nieces, nephews, and others. They have held a monthly vigil for the past six years plus organized and participated in dozens of larger protests, vigils, and other actions.  The Elena Rodriguez family are among the founding families of the Border Patrol Victims Network that has supported other victims' from California to Ciudad Juarez. With the support of the American Civil Liberties Union (ACLU) Araceli has filed a civil lawsuit against agent Swartz and the Border Patrol. Her family's valiant struggle and outcry has been the vanguard in confronting the Border Patrol's excessive use of lethal force and impunity.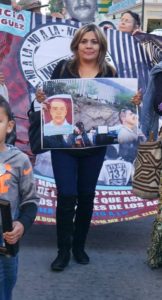 ---
Michael T. McPhearson
Michael T. McPhearson is the executive director of Veterans For Peace, an international organization of military veterans and their associates based in Saint Louis, Missouri. Michael has been heavily involved in economic and social justice activism for the past twenty years. He is a co-founder and former co-chair of the Don't Shoot Coalition formed in the aftermath of the killing of Michael Brown Jr. in Ferguson MO, a suburb of Saint Louis. He has worked closely with the Newark based People's Organization for Progress and the Saint Louis centered Organization for Black Struggle. For several years Michael also worked for National Conference for Community and Justice. NCCJ's mission is to fight all forms of bias and bigotry. Michael has spoken all over the U.S. to small gatherings and large crowds. He has traveled to several countries as a speaker on the U.S. peace movement and world peace.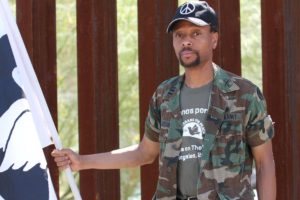 ---
DJ Humble Lioness
Amber Ortega
Mary Garcia
David Garcia
Jennifer Harburry
Nelly Jo David
Homies Unitos
Alejandra Pablos
---
With the Support of:
Susan Sarandon
"Thank you for the invitation to join you at the border and for the inspiring work SOA Watch is doing. I will be out of country in November so cannot be with you in person. We need you now more than ever."
-Susan Sarandon, Actress, Activist & SOAW Supporter since 1998.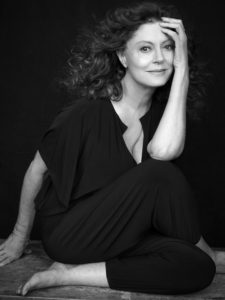 Photo © Mark Seliger
---
Martin Sheen
Actor, activist, and SOA Watch supporter since 1998.