In the spirit of unity and shared reflection, we are pleased to share the Community Blessing and Presentes from our recent 34th Annual Vigil. This 20-minute video features members of the Musicians Collective – Francisco Herrera, Lu Aya of the Peace Poets, and Oona Valle. We hope that this video brings the warmth of solidarity and remembrance to you. Read more…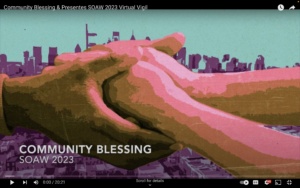 (Click the image above to watch video on YouTube)
---
As a member of the SOAW Artist Collective, I participated in the Witness for Peace Solidarity Collective summer delegation called "Body-Territory: Ecofeminism and Resistance" in Honduras. Read more…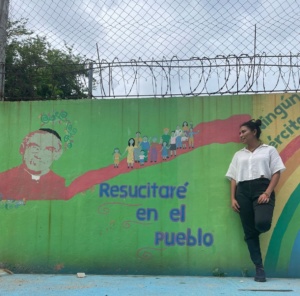 ---
That the US Army is acknowledging its racist past is notable, and the name change from Fort Benning to Fort Moore is a positive symbolic gesture. However…. For those of us with School of the Americas Watch, it evokes memories of the closure of the School of the Americas (SOA) in December 2000 and the subsequent opening on January 17, 2001, of the Western Hemisphere Institute for Security Cooperation (WHINSEC) – on the same site, and with many of the same teachers, classes and manuals. New Name – Same Shame. Read more…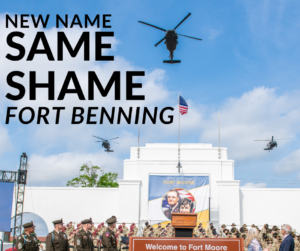 ---
Nestled at the heart of the U.S.-Mexico border, Sasabe is a community that has long borne the weight of geographical and economic challenges. This border town, like many others in the region, grapples with unique hardships and complexities associated with its proximity to the international divide. Read more…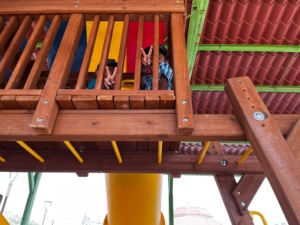 ---
As Honduran social activists and land defenders face increasing military repression and surveillance, these artists are using their craft to amplify the voices and uplift the struggles of Hondurans striving to protect and defend their ancestral lands, natural resources, and autonomy. Read more…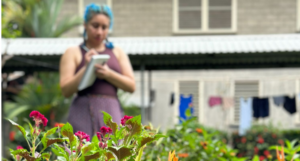 3/3/23: Today marks 7 years since the assassination of visionary Indigenous and social movement leader Berta Cáceres. Berta was tenacious and unflinching in the face of powerful forces of oppression and destruction. She was deeply committed to solidarity and movement building. Her murder was condemned around the world and her life and legacy continues to be celebrated and honored. Read more…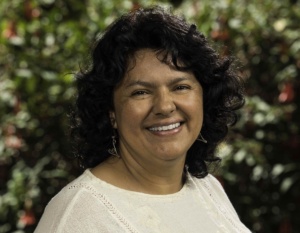 ---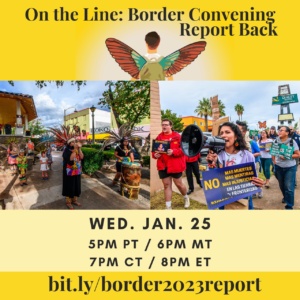 ---
On October 25, 2022, U.S. Ambassador to Honduras Laura Dogu gave a speech attacking key economic policies of the Honduran government that aim to reform some of the most corrupt and destructive plundering of the country institutionalized during the post-coup era. Ambassador Dogu's comments come on the heels of other actions that make clear the U.S. is attempting to thwart even the most basic of reforms of the democratically-elected government. Read more here.
Take Action: Demand the U.S. Stop Opposing Reforms in Honduras
---
The U.S. promotion of militarization and neoliberal economic policies in the name of addressing migration from Central America has traditionally gone largely unchallenged in Congress. SOA Watch and other solidarity organizations are working to change this Read More …
---
Earlier this summer, Vice President Harris announced an additional $1.9 billion in corporate "commitments" in El Salvador, Guatemala, and Honduras as part of the White House's promotion of corporate expansion in the name of addressing Read More …
---
SOA Watch's Dismantling Borders Book Club hosted an Author Talk with former U.S. Border Patrol Agent and whistleblower Jenn Budd when her memoir "Against the Wall: My Journey from Border Patrol Agent to Immigrant Rights Activist" was released. The book chronicles Budd's personal journey and exposes the corruption, human rights violations, and culture of racism and violence that characterize the Border Patrol. Content Warning: Both the book and Author Talk contain discussion of physical and sexual violence and suicide.
Click here to watch the Author Talk.
---
On June 20th, a Honduran court finally presented the written verdict in the case against U.S. trained former military intelligence officer Roberto David Castillo for the murder of Berta Cáceres, sentencing him to 22 years and 6 months in prison. Laura Zúniga Cáceres, Berta's youngest daughter explained, "This is an important advance but the masterminds of the crime are still enjoying impunity thanks to their political and economic power. As victims of this crime, we, her family, members of Copinh and the Lenca people will continue demanding justice from the Honduran state." Read more…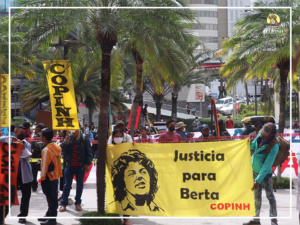 ---
Against the Wall
My Journey From Border Patrol Agent to Immigrant Rights Activist. Virtual Book Release Event & Author Talk with Former Border Patrol Intelligence Officer & Whistleblower, Jenn Budd.
Video in Facebook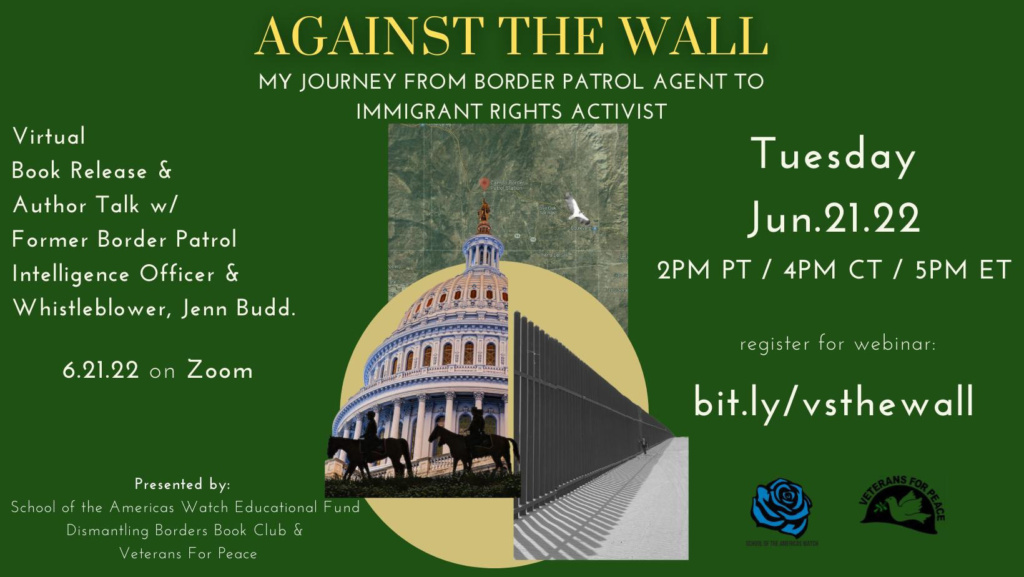 ---
The White House put out a statement last week in which Vice President Harris announced "more than $1.9 billion in new private sector commitments to create economic opportunity in northern Central America" as part of the so-called U.S. Strategy to Address the Root Causes of Migration. As we have shared before, this strategy promotes corporate interests at the expense of the majorities and replicates the same type of policies that have contributed to migration in the first place. A quick look at just a few of the corporate "commitments" announced by VP Harris this week illustrates this. Read more…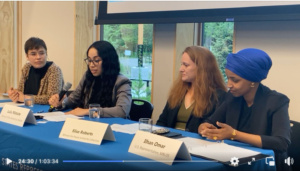 ---
Infrastructure For the Youth, For the Future. No More Walls.
Sasabe is a small rural border town in Sonora, Mexico only a short distance from the border. Since the implementation of Title 42 (Covid hysteria) in March 2020, U.S. Customs and Border Patrol (CBP) has been dropping hundreds of migrants and asylum seekers at the doorsteps of the citizens of Sasabe every week. Even though the town had nothing in place to help support these vulnerable people, they helped as much as they could with very limited resources. The town reached out to Dora Rodriguez (Salvavision) and Gail Kocourek (Tucson Samaritans)  and asked for their help. Dora was already involved with providing aid to Nogales, Sonora. Read more…
---
---
---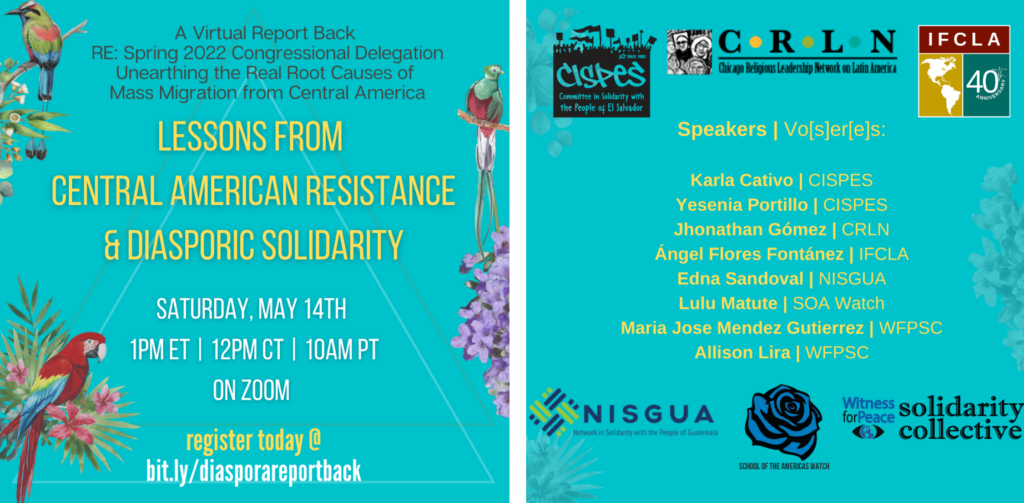 ---
Over 12,000 people have been arrested in El Salvador since the Bukele administration declared a State of Exception on March 27th. In the name of cracking down on gangs following a wave of deadly violence, the State of Exception suspended several consitutional rights, including due process and freedom of assembly, and enabled the Salvadoran military and police to make arbitrary arrests, particularly targeting youth from marginalized communities. Read more…
---
As part of the Unearthing the Real Root Causes of Mass Migration from Central America Delegation organized by solidarity organizations this spring, U.S. Congresspeople Ilhan Omar (MN-05), Cori Bush (MO-01), and Jamaal Bowman (NY-16) visited the Fraternal Black Organization of Honduras (OFRANEH). OFRANEH and the three members of the U.S. Congressional Black Caucus made connections about the impacts of the war on drugs, militarization, and state violence in Black communities in Honduras and in U.S. cities alike. Additionally, a delegation from the Miskitu people, who were victims of the May 2012 U.S. Drug Enforcement Administration (DEA) killings in Ahuas, joined OFRANEH in addressing the delegation. Read more…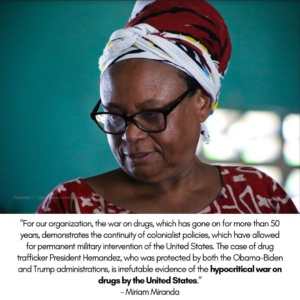 ---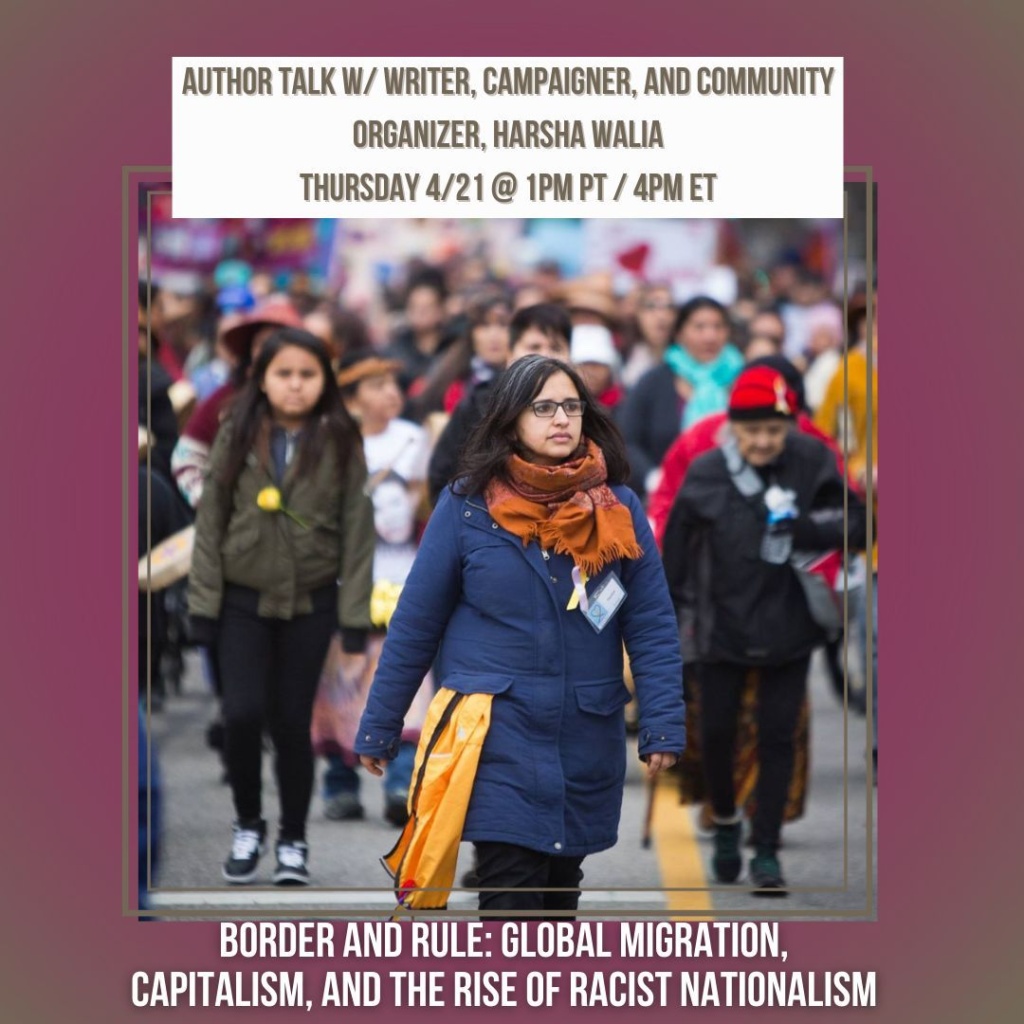 ---
Members of the U.S. Congress – Representatives Ilhan Omar (MN-05), Cori Bush (MO-01), Jesús "Chuy" Garcia (IL-04), and Jamaal Bowman (NY-16) – as well as representation from the office of Jan Schakowsky (IL-09), joined U.S.-based solidarity organizations, including Witness for Peace Solidarity Collective, SOA Watch, the Committee in Solidarity with the People of El Salvador, and the Institute for Policy Studies – Global Economy Program, for a fact-finding mission to Central America last week. 
Upon return, the Congressional representatives issued a joint statement, saying: "We traveled to Central America to investigate the root causes of migration from Honduras, Guatemala, and El Salvador, and the U.S.' role in those causes. What we found is a resilient region where corporate interests, international development institutions, and the U.S. government have played a profoundly destabilizing role.
---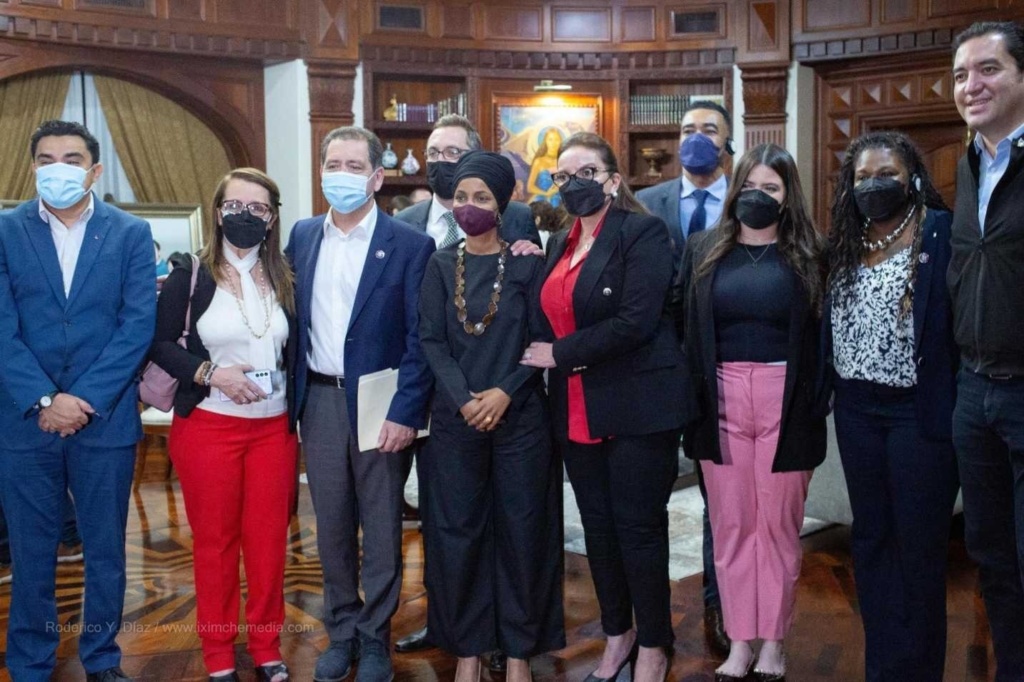 ---
---
---
---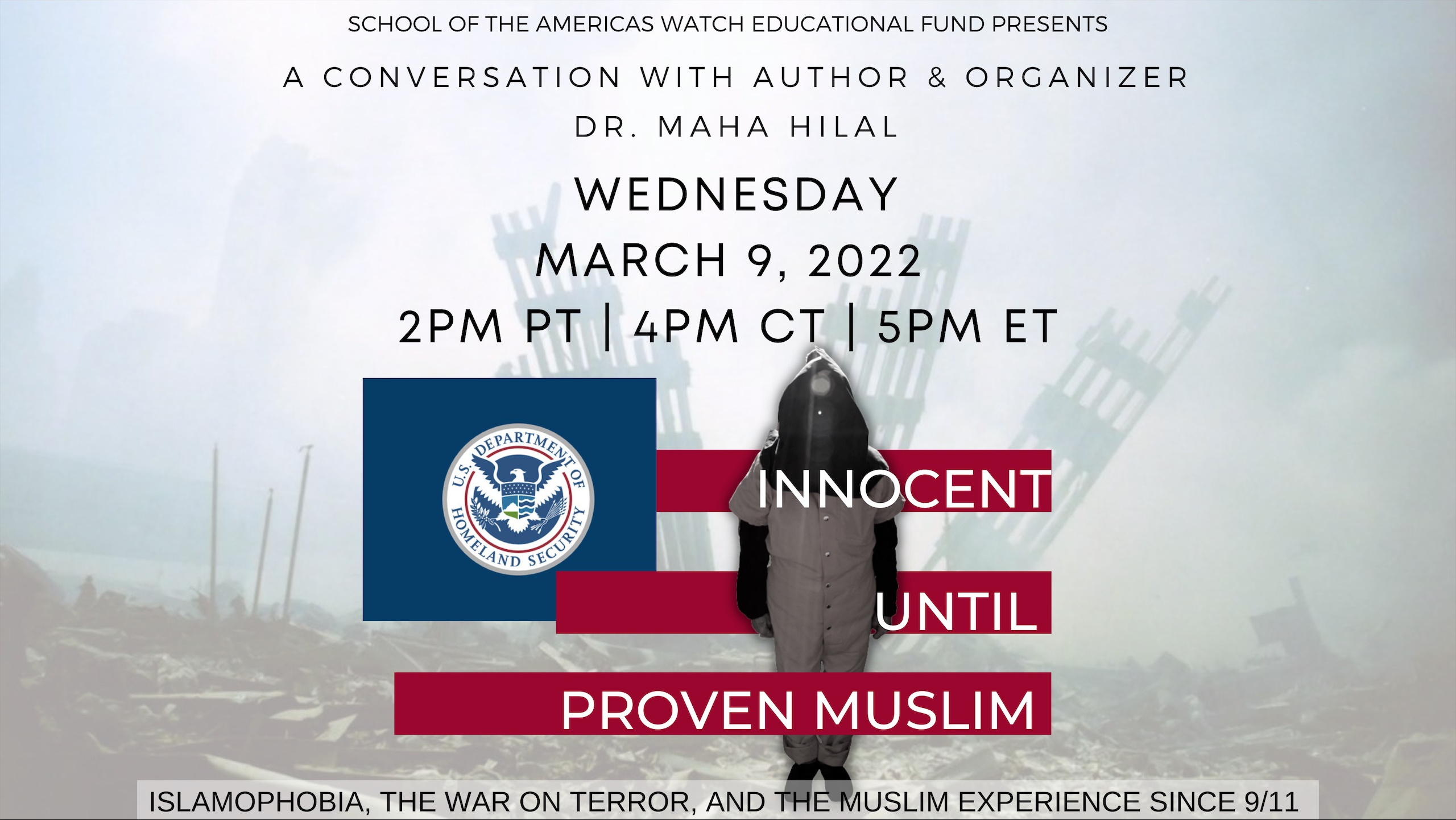 Join Dr. Hilal and SOA Watch Staff Collective to discuss how the official narrative of the War on Terror has justified the creation of a sprawling apparatus of state violence rooted in Islamophobia. Dr. Hilal will unpack the taxonomy of the War on Terror that she outlines in her book—militarism and warfare, draconian immigration policy, surveillance, federal terrorism prosecutions, and detention and torture. Dr. Hilal and SOA Watch will also discuss the experience and resilience of Muslim communities fighting for dignity and justice, including the ongoing struggle to Close Guantanamo Bay Prison.
---
"When Roberto David Castillo graduated from the US Military Academy at West Point, the Honduran cadet was confident he'd leave behind a legacy…
Castillo is certain to be remembered: [in 2021], the Honduran high court found him guilty as the joint perpetrator in the 2016 assassination of the indigenous activist Berta Cáceres, then one of Latin America's most prominent environmental defenders…
'He used his military skills to order her murder – and not just to kill her, but to persecute her,' said Brigitte Gynther, a human rights advocate who worked with Cáceres."
The above is a short excerpt from an exposé in The Guardian about how the U.S.-financed West Point education received by Roberto David Castillo empowered and benefited him. U.S. military training bestows prestige and power on its recipients when they return to their home militaries.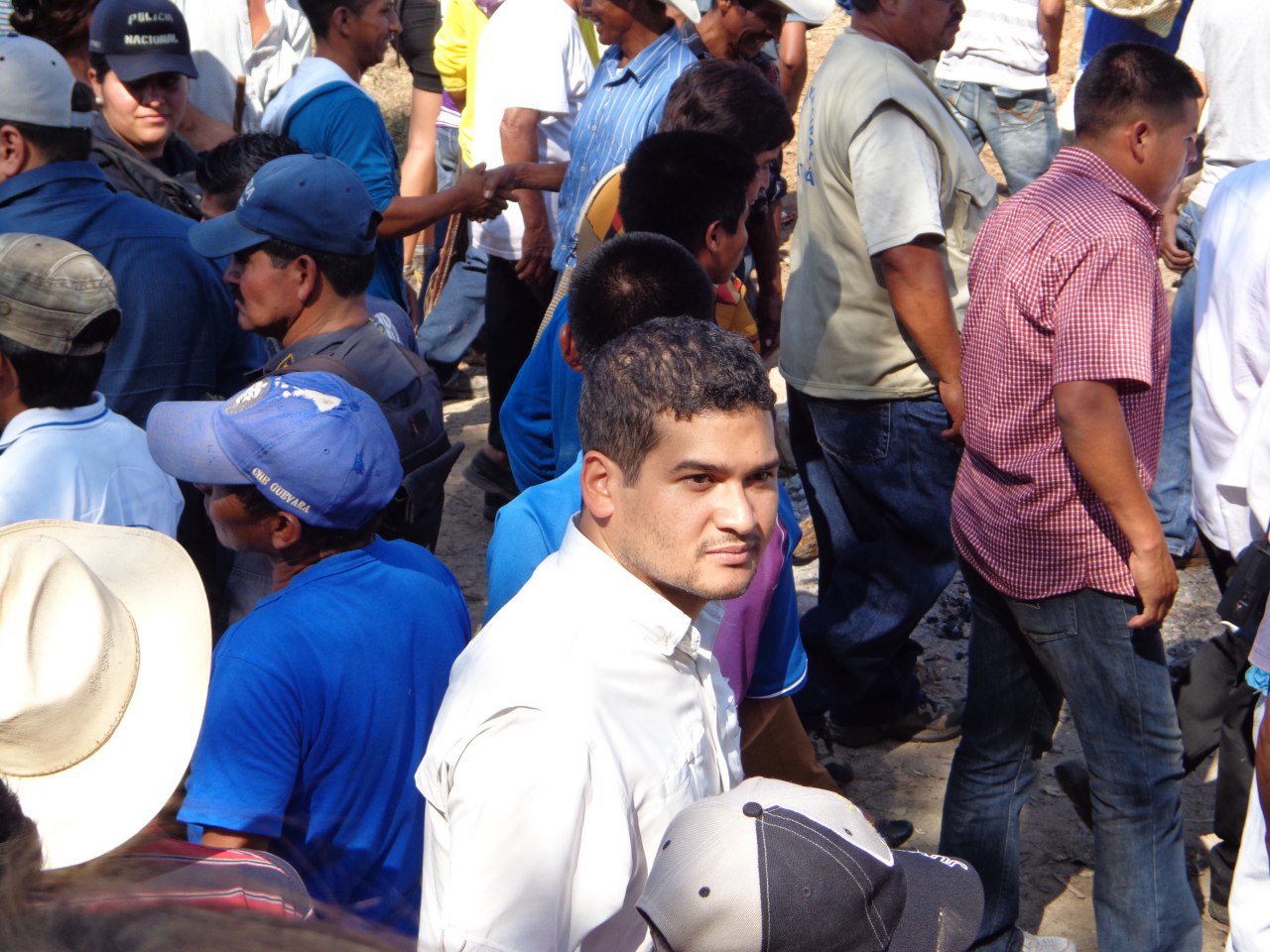 ---
SOA Watch and the international solidarity community will remain especially vigilant of the United States' role in Honduras. It is very rare that the Vice President of the U.S. attends an inauguration in Latin America but today Vice President Kamala Harris led a U.S. delegation to attend the Inauguration in Tegucigalpa. Members of the delegation included Samantha Power of U.S. Agency for International Development (USAID), and Jose Fernandez and Brian Nichols of the U.S. Department of State, among others. The presence of this U.S. delegation signals the importance that the White House is placing on maintaining geopolitical control of Honduras as President Xiomara Castro assumes power. Vice President Harris is leading U.S. efforts to purportedly address mass migration from Central America and therefore, her relationships with government leaders in the region are critical for the roll out and implementation of the U.S. Strategy for Addressing the Root Causes of Migration in Central America.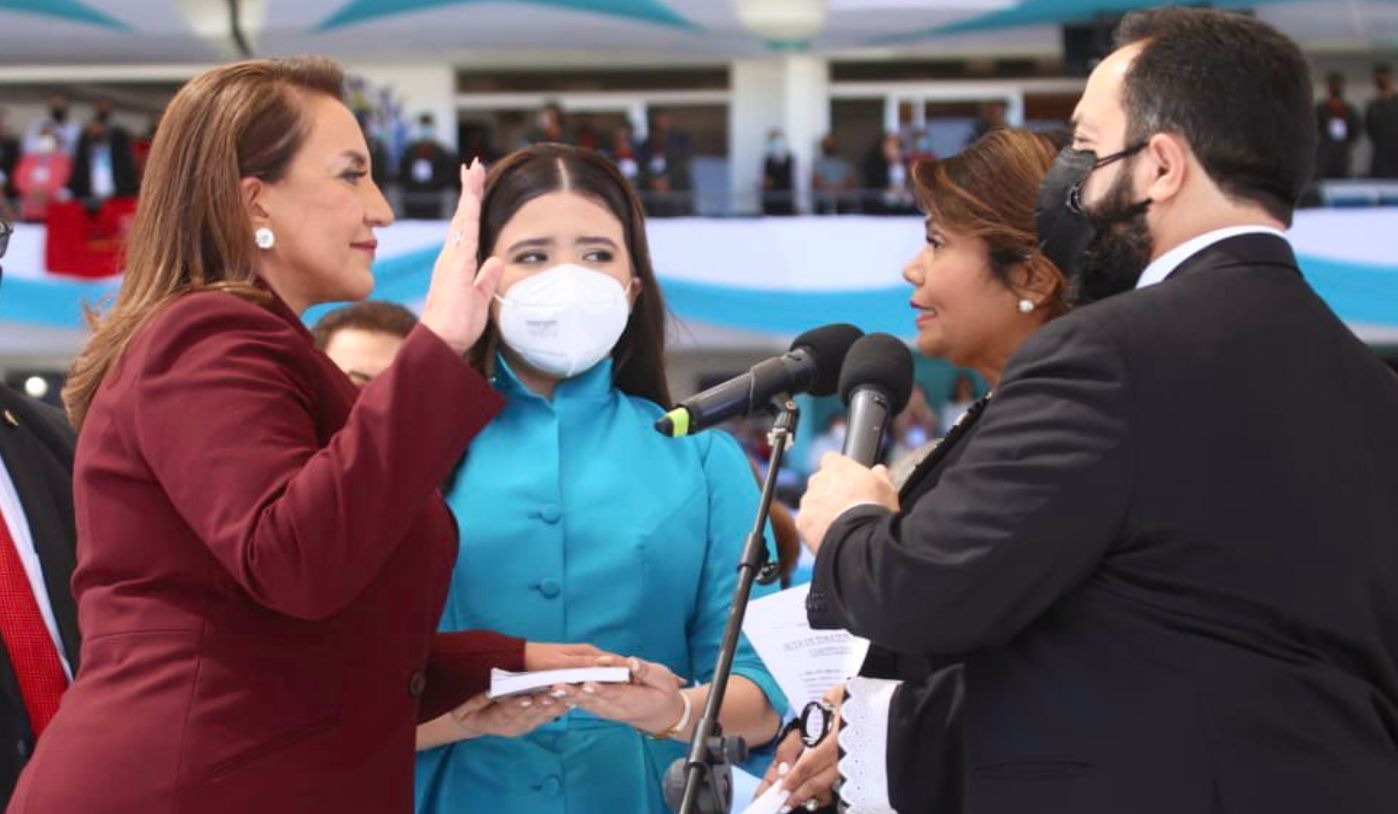 ---
Dismantling Borders Book Club
Through chapter reviews, guiding questions, and open discussions, we seek to sharpen our tools/expand our knowledge of border militarization while applying lessons into our own lives and community work. We invite you to bring your thoughts, questions, and experiences, as we dive into the Dismantling Borders Book Club inaugural book selection.
To view the reading/meeting schedule click here.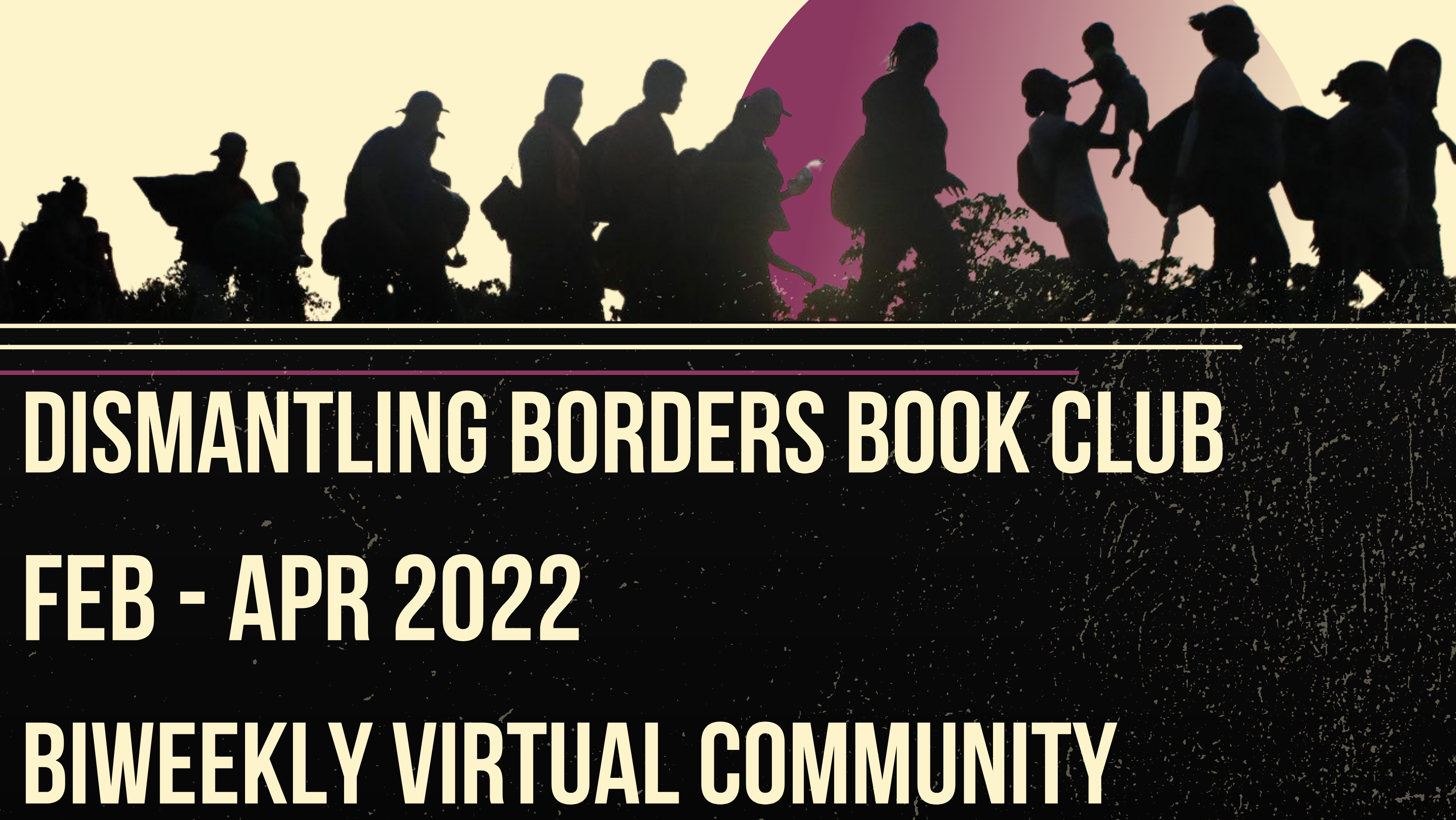 ---
Disrupt, Confront, and Close Guantánamo: 20th Anniversary Virtual Rally 
Join us on January 11, 2022, for a virtual rally to mark 20 years since the Guantánamo Bay Prison was opened as part of the so-called global "War on Terror."
The urgency to close Guantánamo could not be greater than it is at this moment. Despite the prison's catastrophic legacy of injustice, torture, and Islamophobia, successive administrations have failed to close it. President Biden, despite saying he wants to close the prison, has made little progress toward achieving this goal. After 20 years, we must push through the impasse on Guantánamo and de-normalize its existence. We can no longer tolerate the U.S. government's use of indefinite detention without charge or trial and its failure to meaningfully address the grave harm it has caused.
This rally is a call for all of us to disrupt and confront the status quo that has kept Guantánamo open and to imagine and chart a path toward finally ending and abolishing the prison and all that it represents.

---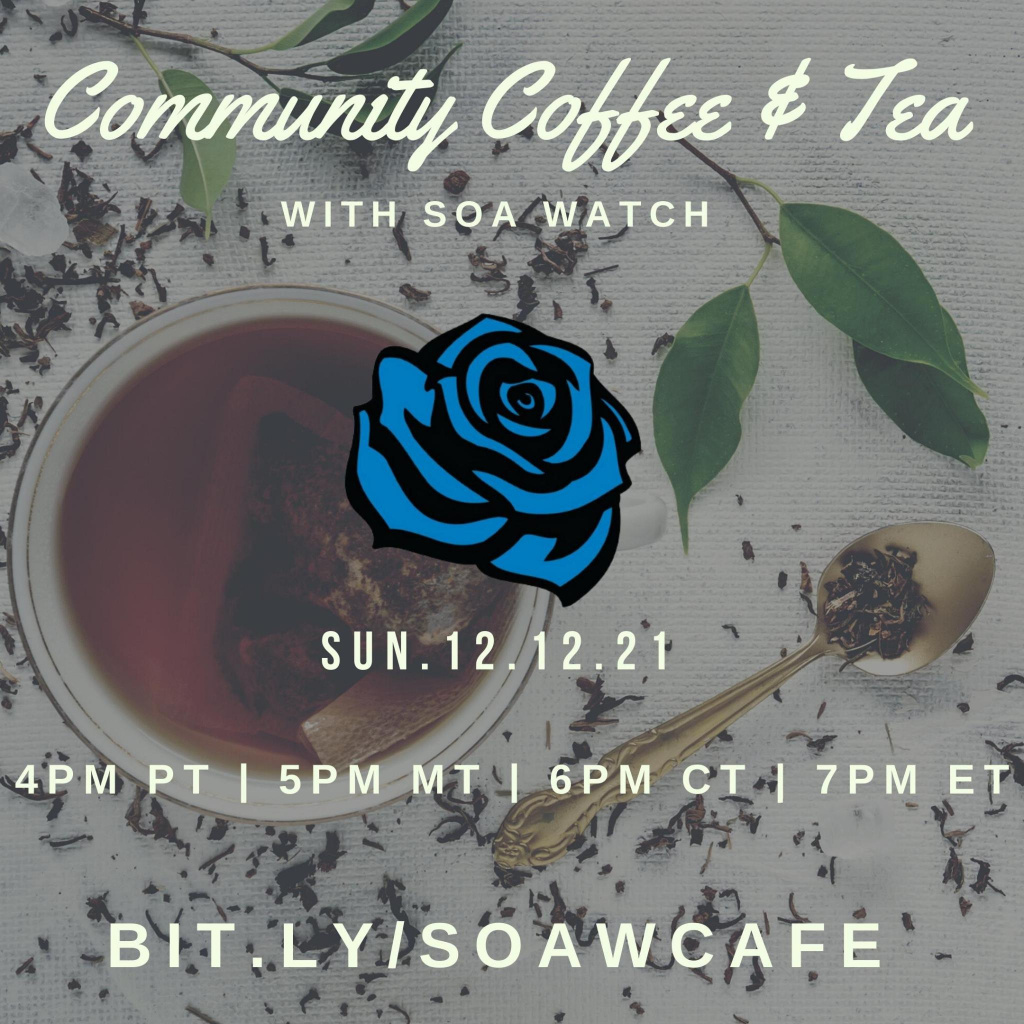 ---
Historic turnout in Honduran elections to oust U.S.-backed regime
November 29, 2021- Euphoria reigned in the streets of Honduras on the night of Sunday, November 28, 2021, as it appeared that massive turnout of voters propelled the opposition candidate, Xiomara Castro, to the presidency. Twelve years after the National Party took power in the 2009 military coup, Hondurans resoundingly rejected them at the ballot box. Historic turnout appeared to overcome the ruling party's vote buying and attempts to cling to power. With 51.45% of the vote counted as of Monday morning, Xiomara Castro led the ruling party candidate by nearly 20 points, with 53.61% of the vote.
---
---
VIDEO:

Annual Vigil SOA Watch
---
---
TIME: 11:30 AM – 1:00 PM PST  | 1:30 PM – 3:00 PM CST | 2:30 PM – 4:00 PM EST
Join the SOA Watch Musicians Collective to honor the memory of victims of state violence. Through song, Presentes, and collective sharing, we will honor the memory of victims of state violence and fortify our collective resistance for justice and peace in the world. Register here…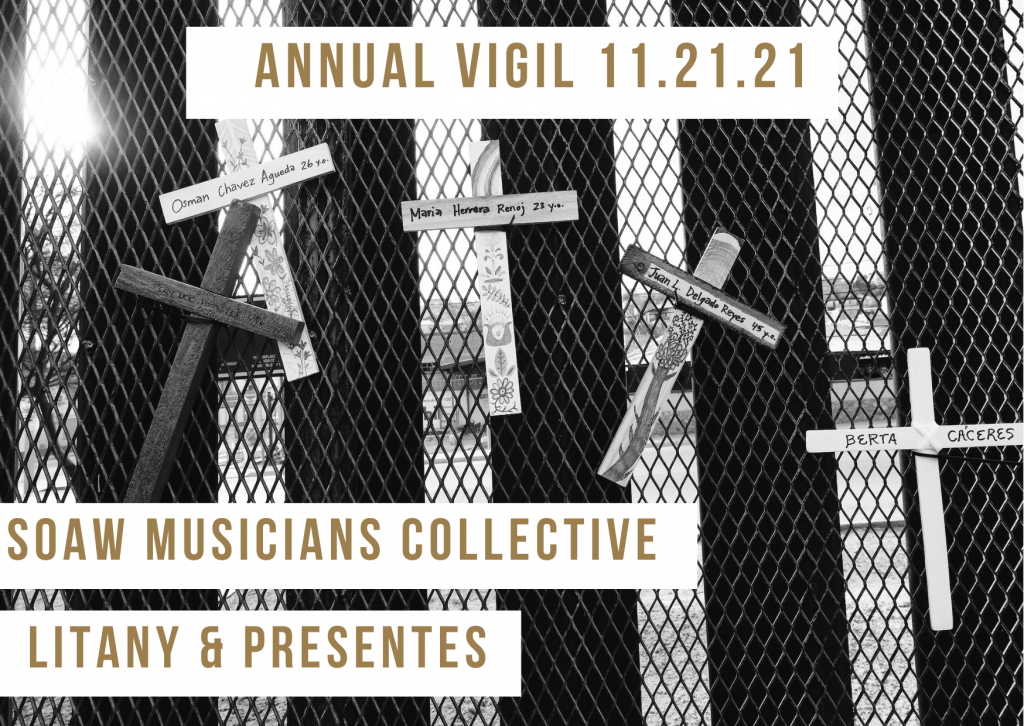 ---
2021 Panels and Speakers 
We are pleased to announce the speakers for the 2021 SOA Watch Virtual Conference "Flowers of Resistance" on Saturday, November 6th. Don't forget to register for the conference here. The virtual events are free, bilingual (Spanish and English, interpretation will be provided), and all are welcome to attend. You will receive an email confirmation with all the conference Zoom links after registration. Read more…

---
Read more…
---
Invitation to Sunday 10/10 Vigil 6pm PT / 9pm ET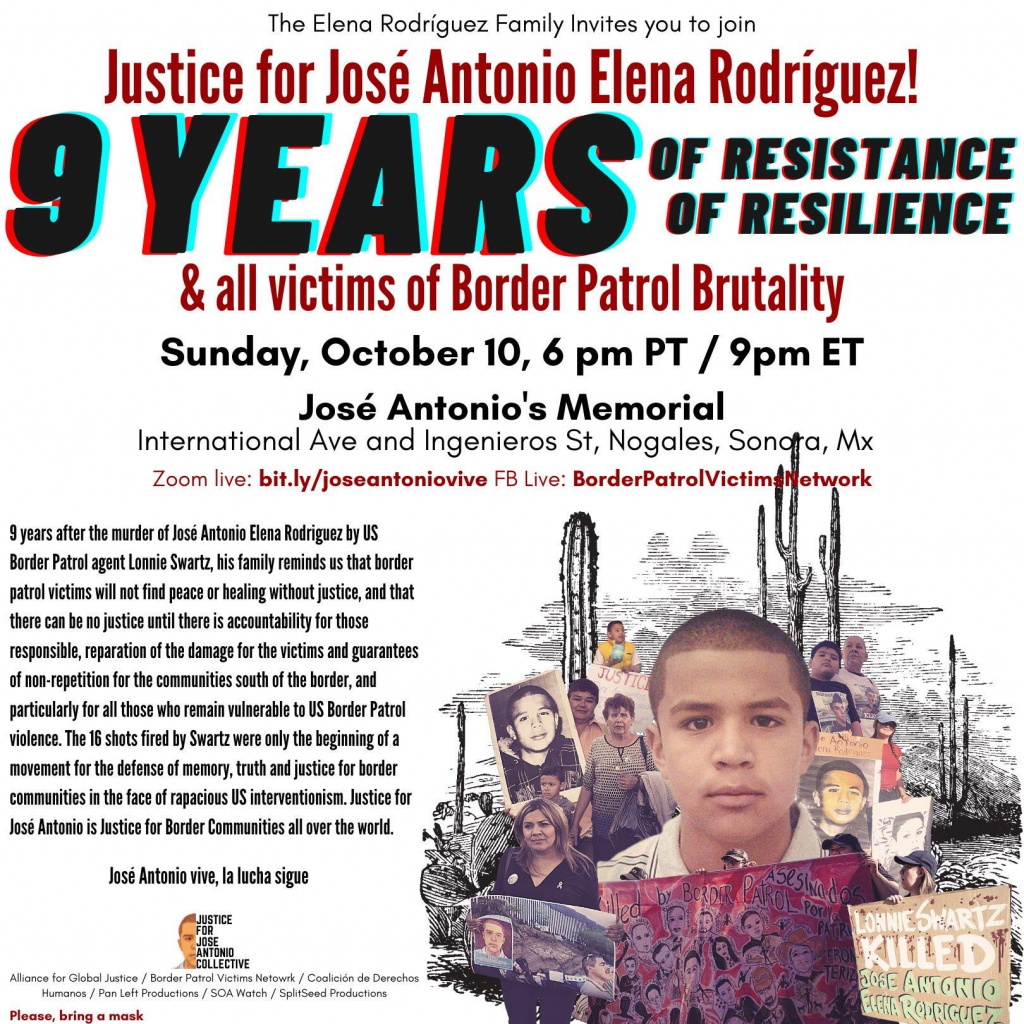 ---
Representative Rashida Tlaib (D-MI) has introduced an amendment to the National Defense Authorization Act (NDAA) to prohibit the U.S. from providing capacity building military aid — including military training and equipment — to El Salvador, Guatemala, and Honduras.
Ask your Representative to co-sponsor this important amendment today!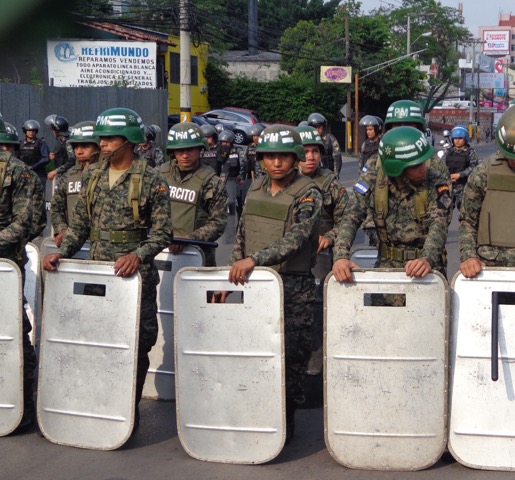 ---
On, Monday, September 13th, Edwin Espinal and Raul Alvarez are facing trial for charges related to the anti-fraud, pro-democracy protests in 2017. If convicted, they face 15-30 years in prison. Edwin and Raul already were imprisoned for 19 months in a maximum security prison in terrible conditions. The U.S.-backed Honduran state has targeted Edwin and Raul in criminal proceedings full of serious irregularities, including the fact that their trial will be held in a court that legally does not have the authority to hear it.  Take action today!  Ask your Congresspeople to contact the U.S. Embassy about Edwin and Raul's case by clicking here!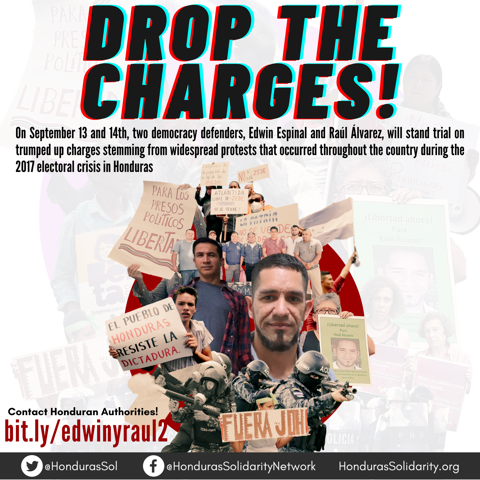 ---
Today also marks 48 years since the 1973 coup d'etat against Chilean President Salvador Allende. The U.S. supported coup ushered in a dark era of military dictatorship in Chile, the effects of which still are visible in Chile today.
Today, we remember those who have been killed, disappeared, tortured, imprisoned, and had their lives destroyed in Chile, in Afghanistan, in the United States, and around the world. We also recommit ourselves to acting in solidarity with those most affected by state violence who are organizing for liberation and self-determination.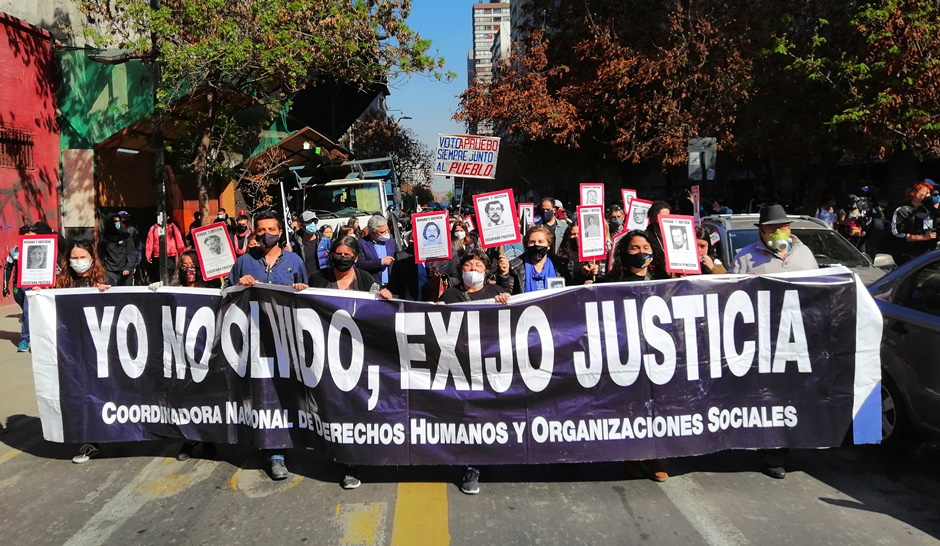 ---
Four of the former Colombian military personnel arrested for the assassination of the Haitian President were trained at WHINSEC. 
They took courses in counter drug operations, cadet leadership development, noncommissioned officer development and small unit leader training between 2001-2015, according to information the Department of Defense provided to the Columbus Ledger-Enquirer. A total of 7 of those arrested for the assassination to date were trained by the United States.  In addition to WHINSEC, others received training in Washington, D.C.
Read More…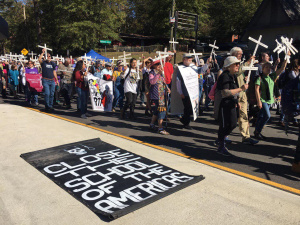 ---
"SOA Watch salutes Berta's organization COPINH and Berta's children, Bertha, Olivia, Laura, and Salvador Zuniga Cáceres, who have worked tirelessly since Berta's assassination to demand justice and truth. And we pledge to continue working in solidarity with them until ALL those responsible for ordering and paying for Berta's murder are brought to justice…"
---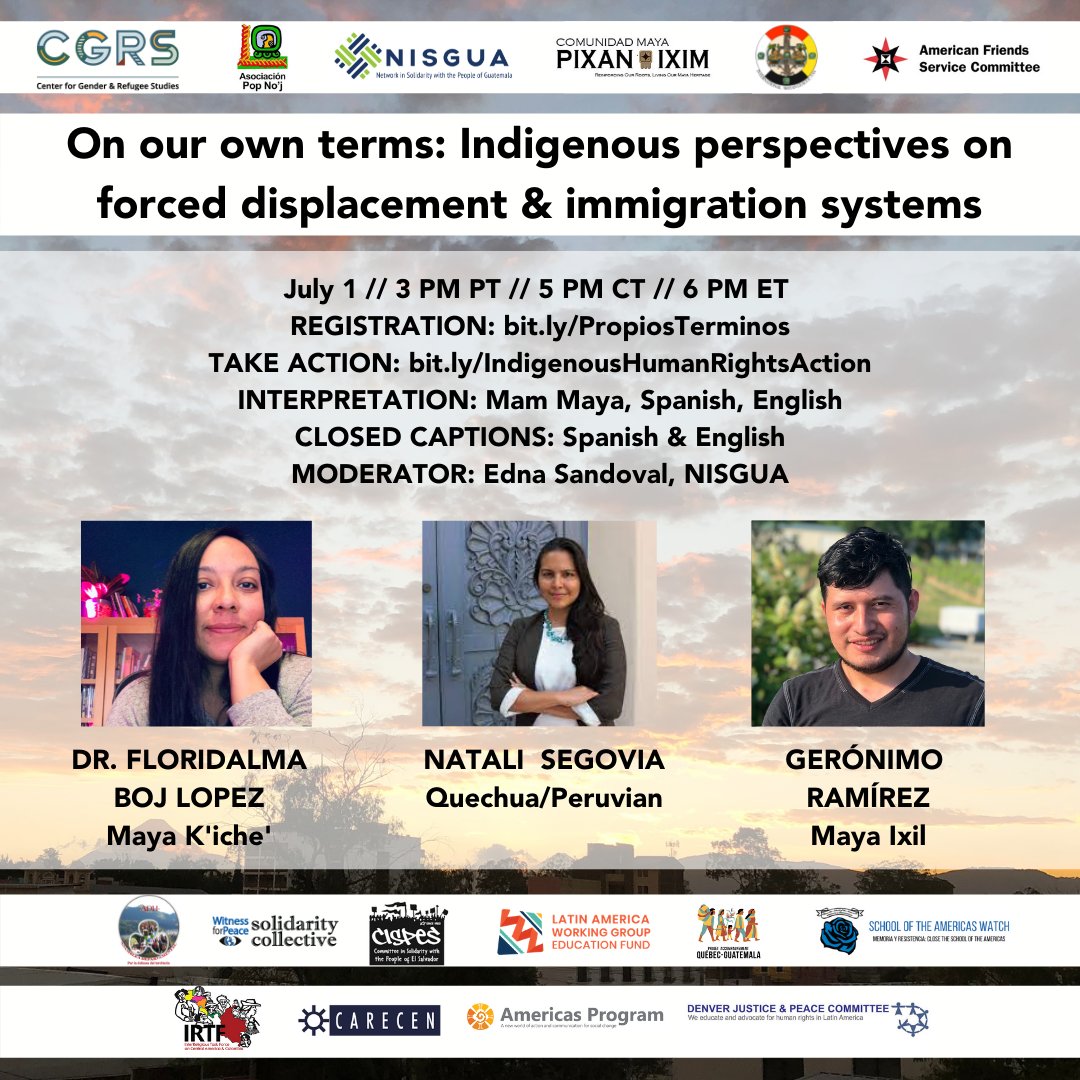 ---
SOAW & Justice for Muslims Collective: From Colombia to Palestine, US Empire is a Crime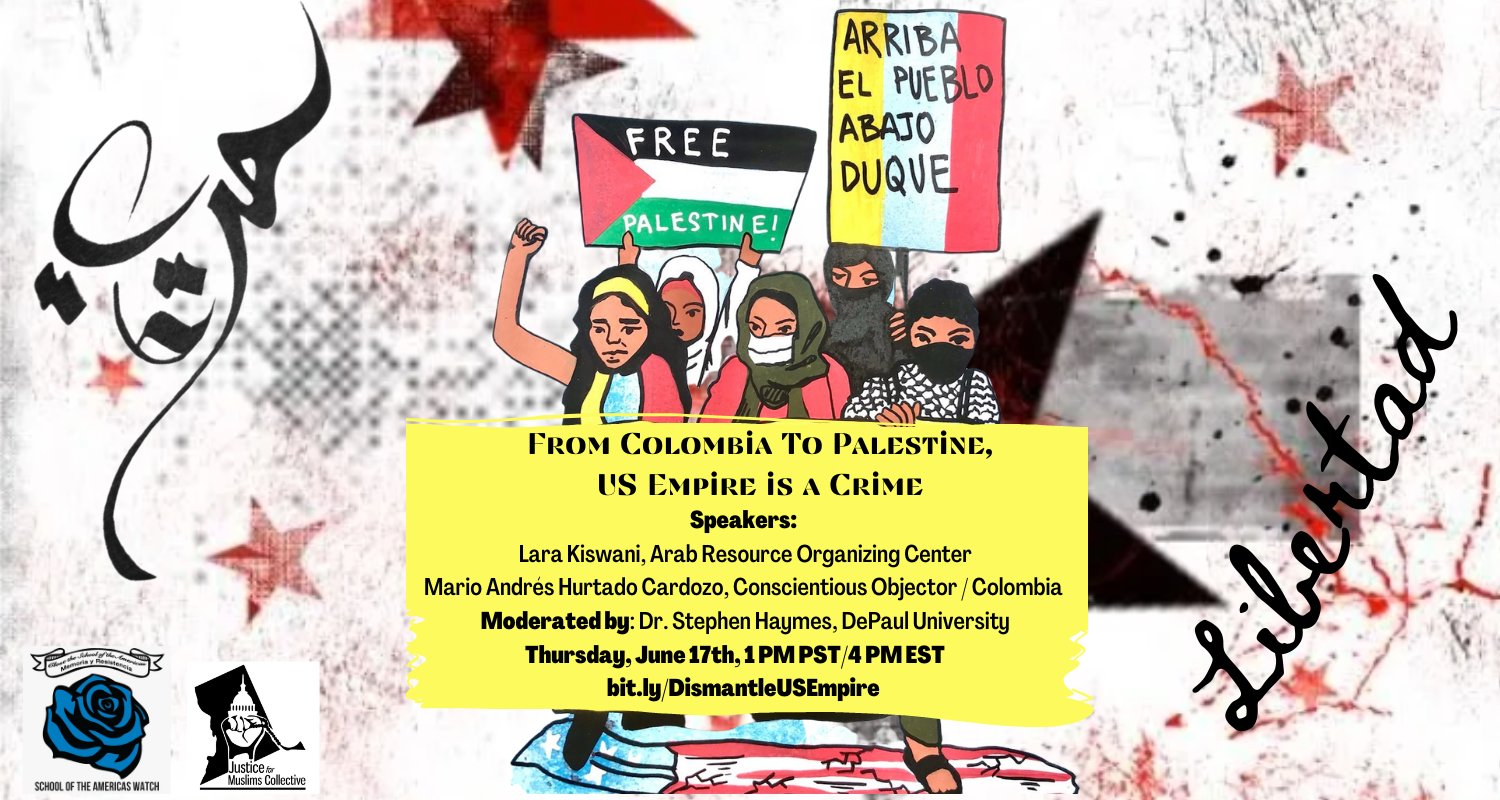 ---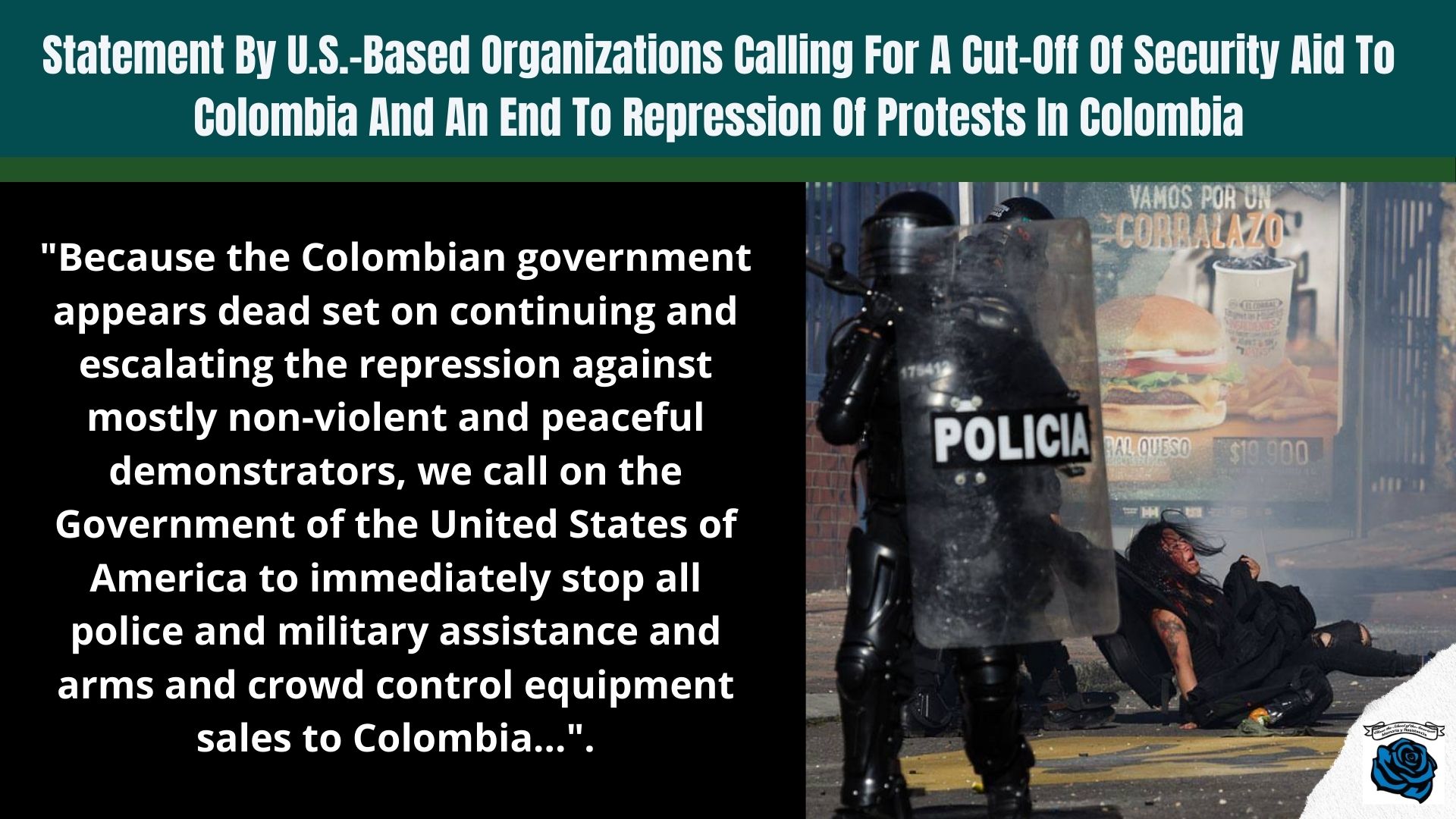 ---
---
We reject state violence against the Colombian population, as well as the actions of paramilitary groups and mercenaries, which the world has learned about through videos and denunciations. We denounce the training, assistance and weapons that the Colombian Security Forces have received from the government of the United States which, which HAS only reinforced the continuous violations of human rights. 
We call on the government of President Iván Duque to stop police and military violence and to adopt political, economic and social measures that respond to the needs of its people in an immediate and consensual manner with democratic social and political forces.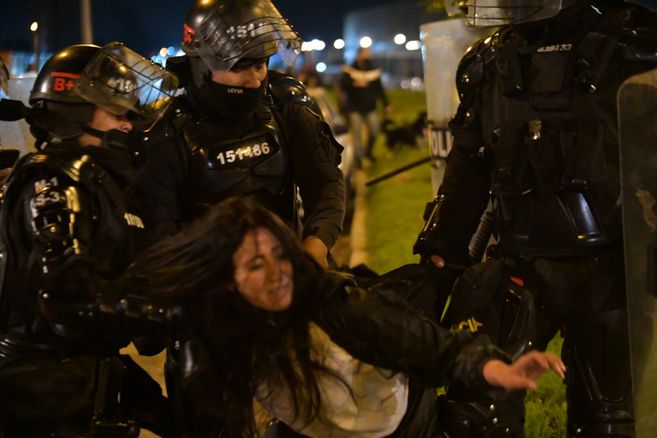 ---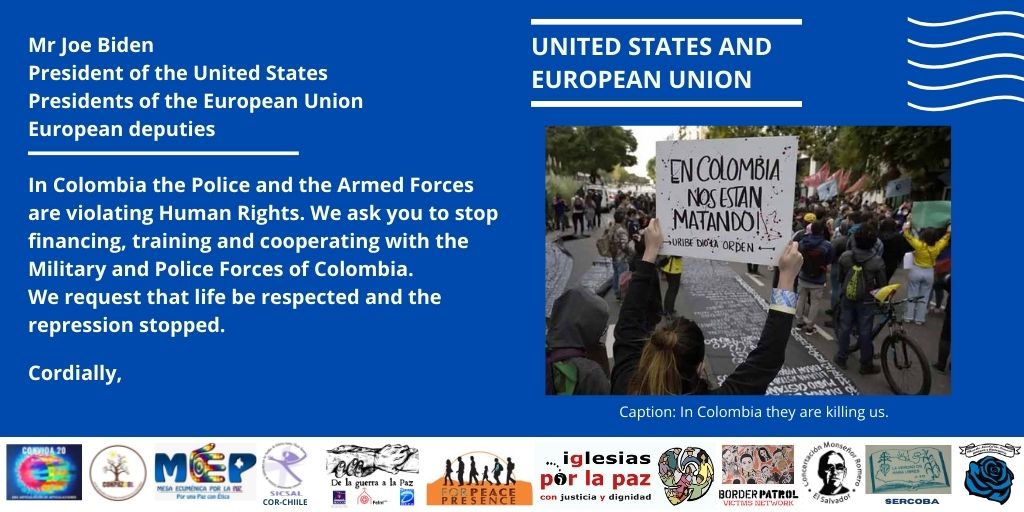 ---
On March 20 & 21, 2021, in celebration of World Water Day and the communities that put their lives on the lives to defend water in the face of militarization and threats, Mutual Aid Media, COPINH, OFRANEH, and SOA Watch hosted a Mini Film Festival. It included the world premiere of the documentary La Lucha Sigue (The Struggle Continues) about the struggles of the Lenca and Garifuna peoples in Honduras. Each of the three films was followed by discussion panels with some of the visionary women leaders featured in each film. A large group discussion closed out the festival.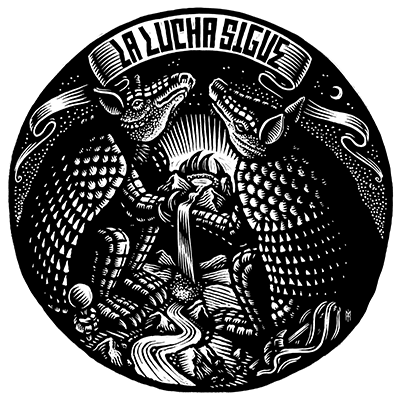 View full recording and more about the films here…
---
This week, SOA Watch, the Witness for Peace Solidarity Collective, the Broad Movement for Dignity and Justice in Honduras (MADJ) and 60 other U.S. and Honduran organizations are sending a letter to U.S. Secretary of the Treasury Janet Yellen urging the U.S. to oppose financing for the Jilamito Hydroelectric Project in Honduras.
For years, members of local communities, organized in MADJ, have maintained an encampment defending the Jilamito River from this project. They have faced death threats, violence, and criminalization. The local mayor and other local leaders face criminal charges for defending the river. One month after they were indicted, Carlos Hernandez, the mayor's defense lawyer, was murdered. Read More…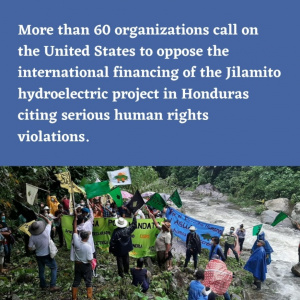 ---
On March 3rd, five years after the assassination of visionary Indigenous rights leader Berta Caceres in Honduras, Congressman Hank Johnson (GA-04) and 44 cosponsors reintroduced the Berta Caceres Human Rights in Honduras Act (H.R.1574). The bill would suspend all U.S. aid to the Honduran military and police forces until human rights violations cease and those responsible are brought to justice.
E-mail your representative to ask them to cosponsor the Berta Caceres Human Rights in Honduras Act by clicking here.
You can also read more about the bill here.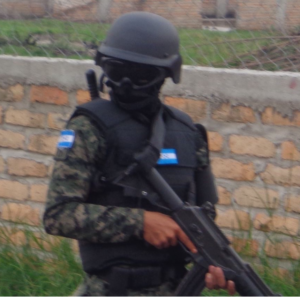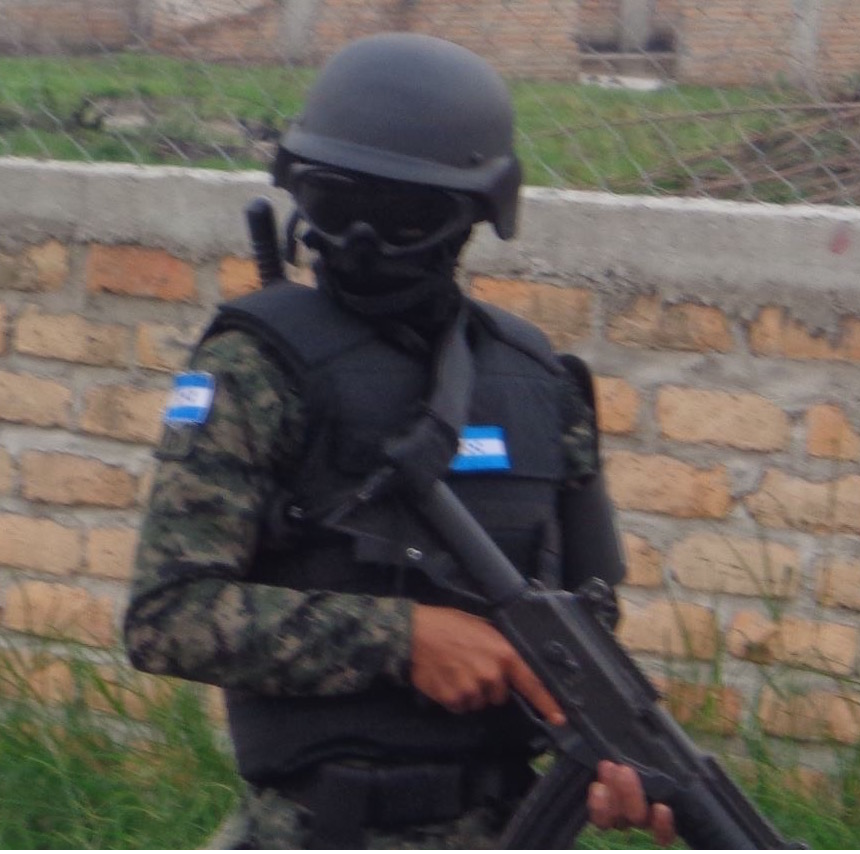 ---
5 years ago, I froze when I awoke to a message that Berta Cáceres had been murdered. I immediately called her close COPINH colleague, hoping it wouldn't be true. But it was. Just the evening before, Berta had messaged asking when I was coming; I couldn't believe she was no longer alive. I dropped everything and headed to La Esperanza, Honduras. The situation had been intensifying for Berta and COPINH since the fall, when DESA began its second attempt at constructing the Agua Zarca Hydroelectric Project and COPINH, with Berta's leadership, again organized to stop the project and defend the sacred Gualcarque River.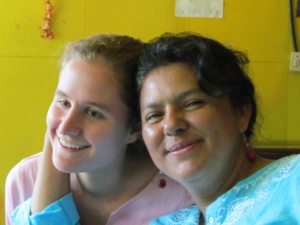 ---
SOA Watch mourns the death of Sister Dianna Ortiz, OSU, who passed away on February 19th. We give thanks for her life and remarkable witness for peace and justice, to end torture, and to hold the U.S. government accountable. Her spirit, strength, compassion, and courage touched many lives.
In November 1989, while serving as a Catholic nun in Guatemala, she was abducted and brutally tortured by the U.S.-backed and trained Guatemalan military, under the supervision of a person from the U.S. referred to as 'Alejandro.'  Her subsequent quest for the truth about the role of the U.S. government in human rights abuses in Guatemala — including a five week fast in front of the White House — led to the declassification of documents that helped exposed the role of the U.S. in the genocide in Guatemala.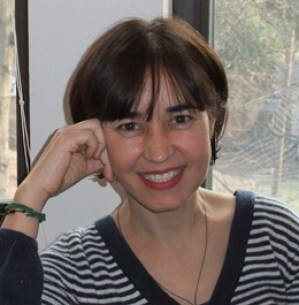 ---
On February 18th, OFRANEH (Black Fraternal Organization of Honduras) launched SUNLA (Garifuna Committee for the Search and Investigation of the Disappeared from Triunfo de La Cruz), an independent and interdisciplinary investigative body made up of international participants who will search for the truth regarding the forced disappearance of Sneider, president of the Triunfo de la Cruz community board, and community members Suami, Milton, and Gerardo. Prior to the July 18th 2020 abduction, the young Garifuna men, particularly Sneider in his role as president of the community, were socially and politically active in the ongoing struggle to keep Afro-Indigenous culture and communal lands from being lost to forced displacement by Honduran officials seeking to make way for tourism and foreign investment on the Caribbean north coast.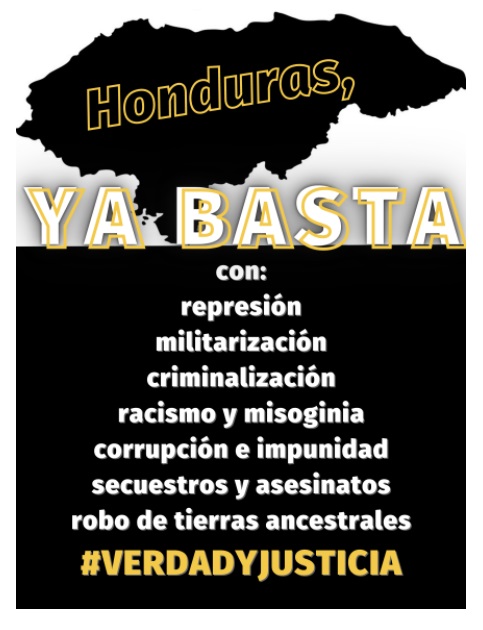 ---
On February 23rd, Senator Jeff Merkley of Oregon introduced the Honduras Human Rights and Anti-Corruption Act in the U.S. Senate. The bill would:
Suspend U.S. assistance to the Honduran military and police, including U.S. military/police training and equipment, until the Honduran military and police cease committing human rights violations and those responsible for human rights violations are brought to justice.
Prohibit exports of U.S. munitions, including semiautomatic firearms, tear gas, tasers, and more, to the Honduran military and police.
Direct President Biden to sanction and stop supporting Honduran President Juan Orlando Hernandez, who has been named as a co-conspirator by U.S. federal prosecutors in drug trafficking cases (yet is considered a U.S. ally and is still in power due to U.S. backing).
Support the United Nations High Commissioner for Human Rights Office in Honduras and the creation of a United Nations anti-corruption mission in Honduras with the ability to prosecute corruption cases against high-ranking government officials (a long-time demand of Honduran civil society).
---
We can't just close Guantanamo Bay prison, we also have to abolish the injustice that allowed it to exist
"I believe it is time for the detention facility at Guantanamo to close its doors,"Secretary of Defense Lloyd Austin wrote in his written responses to Congress during his recent confirmation hearing. As a longtime advocate of closing the Guantanamo Bay prison, these are welcome words. But we can't just close Guantanamo, we need to abolish it.
Abolishing Guantanamo means more than just closing the physical prison or transferring the 40 prisoners still detained. It will entail deconstructing the entire 'war on terror' paradigm, which treats terrorism as an exceptional form of violence that necessitates extraordinary interventions. Read more…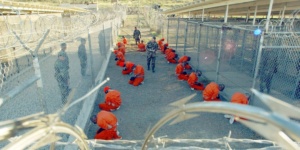 ---
On Friday January 29th and Saturday January 30th, for the second time, the human rights defender María Eugenia Mosquera was threatened by Whatsapp while she was in Buenaventura with representatives from Fellowship of Reconciliation (FOR) Peace Presence, Fellowship of Reconciliation Austria, and Witness for Peace Solidarity Collective. She received Whatsapp messages to her personal cellphone from the number +57 317-694-3450 between 1:40 PM and 7:16 PM on Friday and another message on 12:33 PM Saturday. Read more…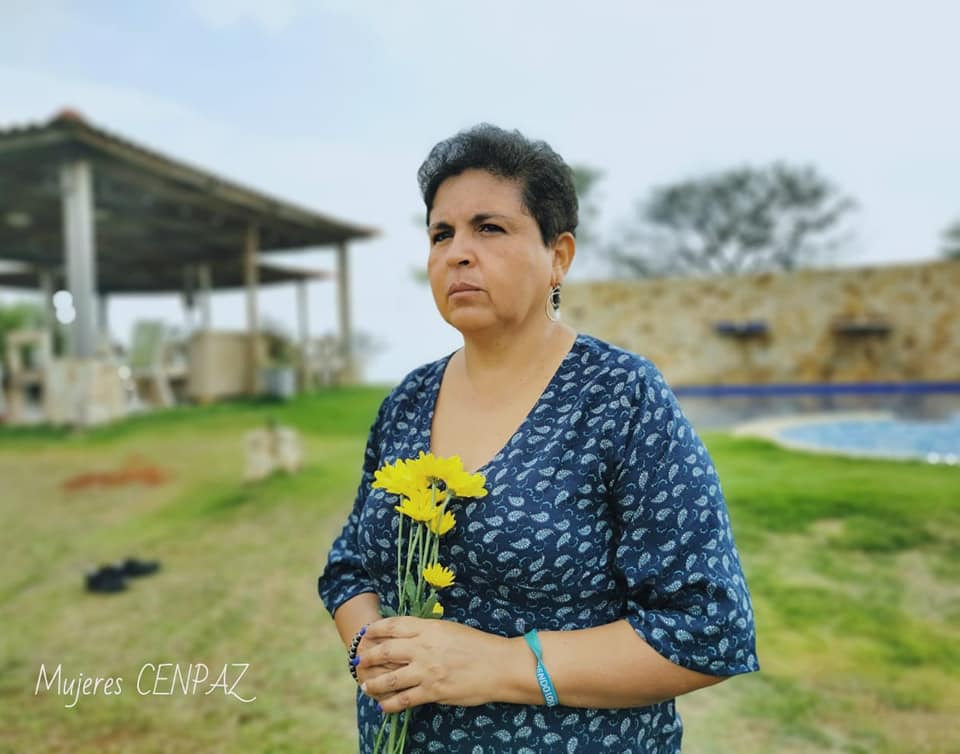 ---
Today, January 18th, marks 6 months since the forced disappearance of Albert Sneider Centeno Thomas, Milton Joel Martínez Ávila, Suami Mejía Garcia, and Gerardo Misael Trochez Cálix from the Garifuna community of Triunfo de la Cruz on Honduras' northern coast.
The young Garifuna men were forcibly kidnapped by armed men identified as agents of Honduras' Investigative Police Agency (DPI) and never seen or heard from again. The Garifuna community of Triunfo de la Cruz, part of the Fraternal Black Organization of Honduras (OFRANEH), has been demanding the Honduran government comply with an Inter-American Court of Human Rights sentence to clearly demarcate their land and ensure their right to it. Albert Sneider Centano (pictured above on right), President of the Triunfo de la Cruz community and one of the forcibly disappeared men, was a vocal leader in these efforts. Six months after the forced disappearances of Albert Sneider Centano and the other Garifuna young people, the U.S.-funded and backed Honduran government has given no real answers.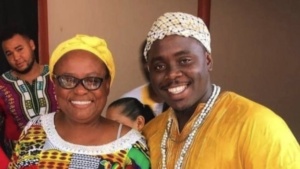 ---
As the attention of the country focuses on the white supremacist violence that terrorized the U.S. Capitol, we must acknowledge that white supremacy and U.S. policy inflict terror on communities across the globe every single day. The work to dismantle white supremacy and U.S. empire is urgent and ongoing.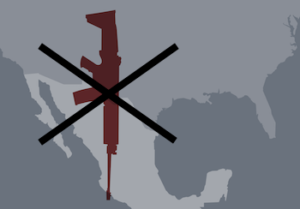 ---
The below organizations sign on to this public statement to express our deep concern for the life and wellbeing of human rights defender María Eugenia Mosquera, after a series threats made against her person.
On the afternoon of January 7th, she received a series of threatening WhatsApp messages, sent between 12:04 pm and 3:52 pm to her cell phone from the number +57 3042014754. The person identified himself as part of "The group that is in the area", also writing "we are the guys who are going to look for you, keep going around and you will see", "do not get caught, you went and talked, that is unforgivable." They finally told her that, "you have three guys watching you."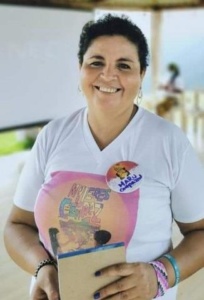 ---
"The SOA Watch staff collective is spread across continents, working with allies and compas throughout the Americas on everything from reports documenting the impacts of US trained, funded and supported state officials; to organizing virtual spaces for popular education and movement building webinars, workshops, and book clubs; to support for urgent actions and solidarity with communities and allies most affected by US led and backed state violence…"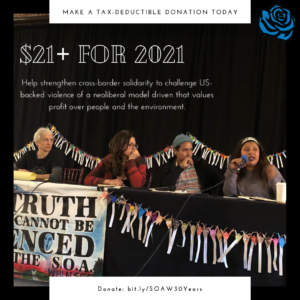 ---
At the end of this incredibly difficult year, we want to take a moment to thank you for being part of the SOA Watch community. Together, we continue to confront a global health crisis amplified by long-standing impacts of labor exploitation, capitalism, patriarchy, racism, and state violence on marginalized communities. Our work to dismantle US Empire and end state violence is only possible with you and because of you.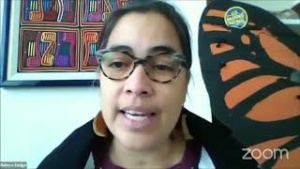 ---
On December 10, 2020, the U.S. Treasury sanctioned two former Haitian government officials for their roles in planning a brutal massacre while they were high-ranking government officials in a government receiving significant U.S. aid and support. One of the officials, Joseph Pierre Richard Duplan, the Departamental Delegate for President Moïse's regime, is accused of being the 'intellectual architect' of the November 2018 La Saline (Lasalin) massacre, in which at least 71 people in the Lasalin neighborhood of Port-au-Prince were killed, women and girls were raped, and over 400 homes were destroyed. The neighborhood was targeted as it was known for its opposition to the U.S.-backed Moïse regime.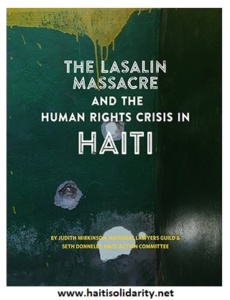 ---
Today, on International Migrants Day, December 18, 2020, we are reflecting on the pain, suffering, death, and disappearances that have been so pronounced this year. Collectively facing a global pandemic, communities worldwide have continued to resist state-sponsored violence, the practice of placing profit over people, and the root causes of migration that have brought many into the borders of a violent United States. Their protests have reminded us that the status quo of unabated violence cannot and will not continue to be the norm.
We are also reminded of how difficult the struggle to leave home, to leave family, to embark on a journey without the certainty of survival, without the guarantee of return, or without the guarantee of a life without fear or persecution, requires bravery and resilience. We uplift those who have taken great risks to work for a better life for their families.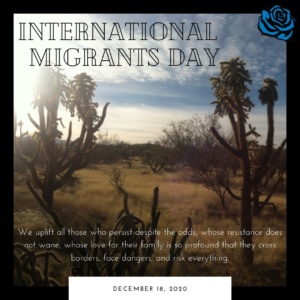 ---
---
---
---
 
---
2020 Virtual Vigil:
Rooted in Resistance

Vigilia Virtual 2020: Enraizades en Resistencia
---
On Wednesday, October 7th we presented our report, From the Beginning to the End: The United States in the Colombian Armed Conflict, to Colombia's Truth Commission. We will be sharing more about the report with you soon! Meanwhile, read the report in Spanish here, and check out the following recordings of the presentation:
(SPANISH) Colombian Truth Commission's Facebook Page
(ENGLISH) Colombian Truth Commission's International Support Facebook Page
(SPANISH) Colombian Truth Commission YouTube Channel
Join Us WEDNESDAY: Presentation of Report to Colombia's Truth Commission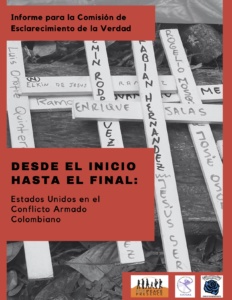 ---
---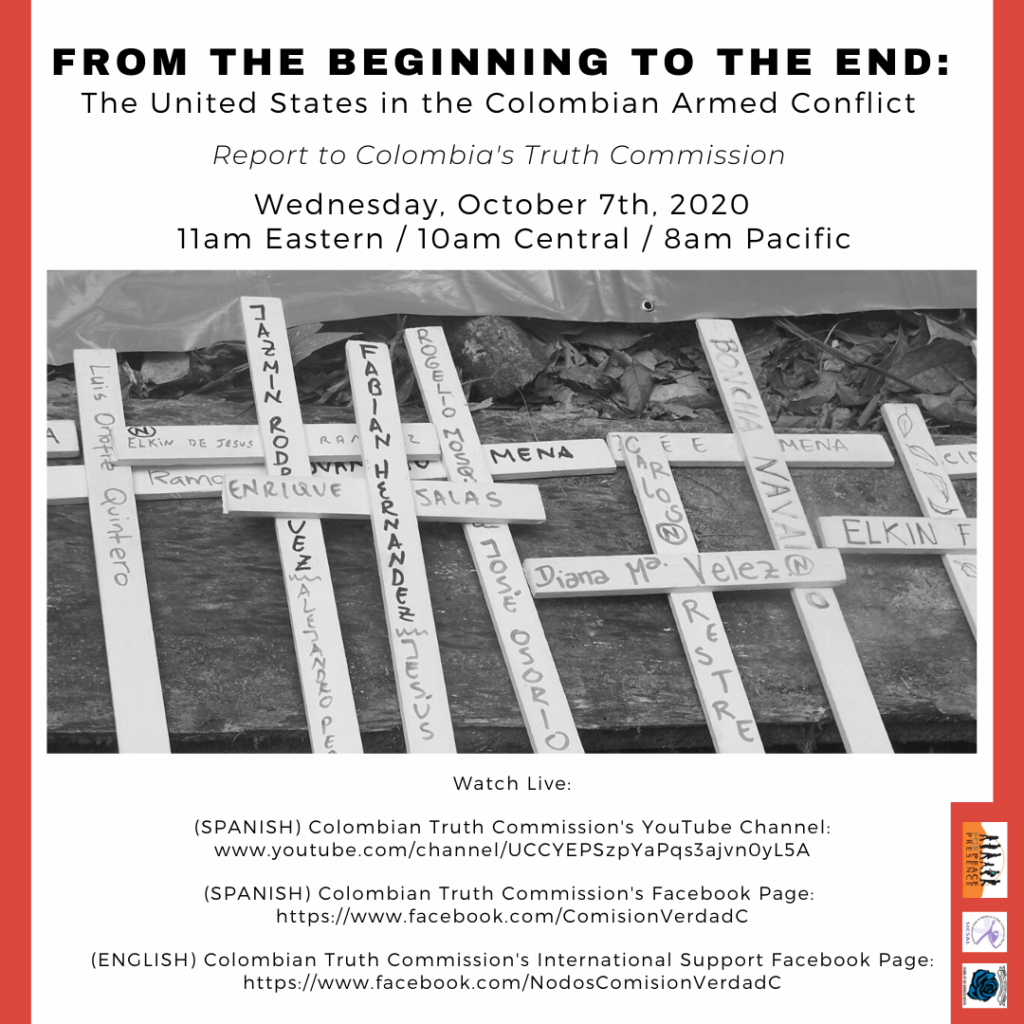 ---