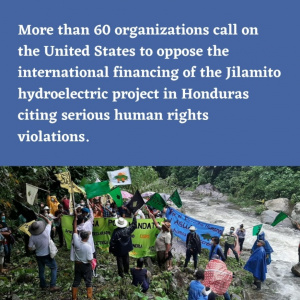 This week, SOA Watch, the Witness for Peace Solidarity Collective, the Broad Movement for Dignity and Justice in Honduras (MADJ) and 60 other U.S. and Honduran organizations are sending a letter to U.S. Secretary of the Treasury Janet Yellen urging the U.S. to oppose financing for the Jilamito Hydroelectric Project in Honduras.
For years, members of local communities, organized in MADJ, have maintained an encampment defending the Jilamito River from this project. They have faced death threats, violence, and criminalization. The local mayor and other local leaders face criminal charges for defending the river. One month after they were indicted, Carlos Hernandez, the mayor's defense lawyer, was murdered.
The U.S. Development Finance Corporation (DFC) has publicly stated it will finance the project as part of the investing $1 billion in the private sector in Honduras. Last year, Rep. Ilhan Omar led over 25 other Congresspeople in a public letter opposing this funding. MADJ has repeatedly denounced threats, human rights violations, and allegations of corruption related to the project. Despite all of this, IDB Invest, the private sector arm of the Inter-American Development Bank, has approved a $20.25 million loan for the project. The U.S. is by far the largest shareholder of the IDB.
You can join us in calling on the U.S. Treasury to use its voice to ensure the immediate suspension and definitive cancelation of the loans to the Jilamito Hydroelectric Project. Share the letter ( http://bit.ly/JilamitoLetter ) on Facebook, Twitter, and Instagram. Be sure to tag @USTreasuryDept on Facebook and @USTreasury and @SecYellen on Twitter. Find sample graphics here.
The letter notes the numerous parallels between the Jilamito Hydroelectric Project and the Agua Zarca Hydroelectric Project, which Berta Cáceres was murdered for opposing. In addition to the violence, criminalization, and threats faced by project opponents, both projects were approved in the period after the 2009 military coup in Honduras when natural resources were rapidly handed over to Honduras' elite. MADJ has denounced corruption and irregularities related to the concession process, as well as environmental damages, but unsurprisingly the Honduran judicial system has yet to resolve their complaints.
The U.S. justifies support for projects such as the Jilamito Hydroelectric Project — via so-called 'development' banks — by claiming such 'development' will prevent migration. To the contrary, the violent, militarized imposition of the US neoliberal economic model – which includes the privatization of natural resources – is itself a root cause of migration from Central America. This is not 'development' – it serves to privatize and concentrate natural resources in the hands of the elite – and is frequently imposed through U.S.-backed militarization and repression of the communities and organizations who defend ther water, land, and rights.
Join us in sending a message to the U.S. Treasury via their Facebook (@USTreasuryDept) and Twitter (@USTreasury) pages to urge Treasury to oppose financing of the Jilamito Hydroelectric Project. Share our posts on Facebook or Twitter or make your own!
Thank you,
SOA Watch
---
60+ orgs call on @USTreasury to oppose @BIDInvest & @DFCgov financing of the Jilamito hydroelectric project in Honduras, in solidarity with @MovAmplioHn https://t.co/pkZICslisj pic.twitter.com/oOtvAlBzMj

— SOAWatch (@SOAWatch) April 15, 2021