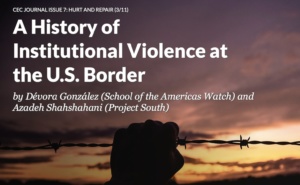 When it comes to the U.S. government, no one should confuse agency size for the likelihood of accountability. For example, U.S. Border Patrol is the Department of Homeland Security's largest federal law enforcement agency, yet has operated with little oversight and almost complete impunity. Nearly a century old, Border Patrol was created under the Department of Labor in 1924 to enforce xenophobic laws. Rooted in systemic oppression, the agency has fostered a culture of brutality amongst its agents since its inception. It needs to be abolished.
Border Patrol was created as a way to calm white supremacist fears and essentially became an agency that functioned as a
"frontline instrument of race vigilantism."
  Early agents were members of the Ku Klux Klan, Texas Rangers, or from border town police departments. It was also created in response to migration to the United States, which was controlled through a
quota system that privileged Western European countries, while explicitly barring others, such as people from Asia
. Where exceptions were made for non-white migrants, they were done in service of capitalist interests. This includes Mexican migrants, who were
excluded from the quota system so that Southwest businesses could continue to profit from their cheap labor
. With the creation of the agency, and in order to control migration from the South, ports of entry became required for entrance into the United States. To legitimize ports of entry,
crossing from anywhere beside one was criminalized, thus creating the concept of "illegal" immigration to the United States
. This primarily impacted Mexican people, who were the source of cheap labor.
By the 1980's, migration from the South was not for obtaining employment, but instead because of the urgency of fleeing from conditions created by U.S. foreign policy and intervention. Central Americans were significantly impacted by ongoing violence and economic hardships in their countries — 
the majority of which was exacerbated by U.S. intervention in the form of military training and financial backing
 for repressive regimes. In fact, human rights violations and genocide were perpetrated by U.S.-trained dictators. High profile priests, entire communities, and anyone challenging the state were brutally murdered and disappeared by U.S.-trained militias. Those who survived were displaced, only to become refugees in the United States. As numerous countries were engaged in protracted conflict, migration to the U.S., rather than being temporary, became more permanent. Unfortunately, non-white immigrants — such as Central Americans —
entered and continue to exist in a political climate that remained highly unwelcoming to migrants
.
…the true number of those who have disappeared crossing the U.S.-Mexico border will never truly be known.
Intentionally ignoring the consequences of U.S. intervention, Border Patrol continued and continues to operate in a political vacuum that deems ongoing presence in the borderlands and the development of for-profit detention centers justifiable and —most problematically— necessary. CoreCivic (formally known as Corrections Corporation of America – CCA) was founded in 1983 and entered its first contract with Immigration and Naturalization Services (INS) in Houston to run the first private detention center that same year. The culture of cruelty in which Border Patrol has existed has expanded to for-profit detention centers, migration policies, and militarization of the borderlands. Border Patrol is rooted in xenophobic policies and continues to dehumanize people while profiting off of those with the need to travel North for economic or political reasons.