Partial List of Panelists, Moderators, and Speakers for the 2019 Commemorative Gathering

Adelina Nicholls – Georgia Latino Alliance for Human Rights (GLAHR)

Ana María Vasquez – Border Patrol Victims Network 
Anton Flores-Maisonet – Atlanta Friends Meeting & Alterna
Anton Flores-Maisonet is the Friend-in-Residence at Atlanta Friends Meeting. Anton recently transitioned from a 17-year transformative experience of founding and living at Alterna, an intentional community, comprised of U.S. citizens and newcomers from Guatemala and Mexico. Additionally, he is a co-founder of El Refugio, a ministry of hospitality and visitation serving immigrants at Stewart Detention Center and their loved ones. Anton has attended the SOA Watch vigil for many years and also served as lead organizers of its Shut Down Stewart vigils.

Araceli Rodríguez & Taide Zojo de Elena – Mother & Grandmother of José Antonio Elena Rodríguez, https://www.gofundme.com/f/stopborderviolence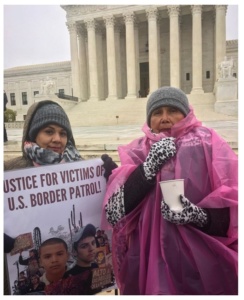 On October 10, 2012, 16-year-old José Antonio Elena Rodríguez was shot sixteen times by US Border Patrol agent Lonnie Swartz. José Antonio was in Nogales, Mexico when Swartz shot and killed him from across the border in Nogales, Arizona. Since then, José Antonio's family has been on a quest for justice to hold Lonnie Swartz accountable for the murder of the Mexican teenager and to challenge the impunity of crimes committed by Border Patrol agents. Over the past 15 years, more than 100 people have been killed by US Border Patrol as a direct result of their excessive use of force. Not one agent has ever been held accountable. Araceli and Taide will be speaking at the 2019 Commemorative Gathering after attending the November 12, 2019 Supreme Court oral arguments for the Hernández v. Mesa case. On June 7, 2010, 15-year-old Sergio Adrián Hernández Güereca was shot and killed by US Border Patrol agent Jesus Mesa Jr.. Sergio Adrián, was located in Ciudad Juárez, Chihuahua when Mesa Jr. shot and killed him from the US-side of the border in El Paso, Texas. This case is important because of the legal precedent it will set in the determination of whether or not non-US citizens murdered by US state agents outside of the US are entitled to any form of legal redress.
Azadeh Shahshahani – Legal & Advocacy Director of  Project South: We All Count, We Will Not be Erased – Institute for the Elimination of Poverty and Genocide
Azadeh has worked for a number of years in the U.S. South to protect and defend immigrants and Muslim, Middle Eastern, and South Asian communities. She previously served as president of the National Lawyers Guild and as National Security/Immigrants' Rights Project Director with the ACLU of Georgia. Azadeh serves on the Advisory Council of the American Association of Jurists. Azadeh has served as a trial monitor in Turkey, an election monitor in Venezuela and Honduras, and as a member of the jury in people's tribunals on Mexico, the Philippines, and Brazil. She has also participated in international fact-finding delegations to post-revolutionary Tunisia and Egypt as well as a delegation focused on the situation of Palestinian political prisoners. She is the author or editor of several human rights reports, including a 2017 report titled "Imprisoned Justice: Inside Two Georgia Immigrant Detention Centers," as well as law review articles and book chapters focused on racial profiling, immigrants' rights, and surveillance of Muslim-Americans. Her writings have appeared in the Guardian, the Nation, MSNBC, USA Today, Aljazeera, and HuffPost, among others. Azadeh received her JD from the University of Michigan Law School where she was Article Editor for The Michigan Journal of International Law. She also has a Master's in Modern Middle Eastern and North African Studies from the University of Michigan. Azadeh is the recipient of the National Lawyers Guild Ernie Goodman Award, the Emory Law School Outstanding Leadership in the Public Interest Award, the US Human Rights Network Human Rights Movement Builder Award, the American Immigration Lawyers Association Advocacy Award, the Distinguished Leader Award from the Fulton County Daily Report, and the University of Georgia Law School Equal Justice Foundation Public Interest Practitioner Award, among several others. She has also been recognized as an Abolitionist by the Antiracist Research and Policy Center at American University & the Frederick Douglass Family Initiatives, and as one of Atlanta's 500 Most Powerful Leaders by Atlanta Magazine.  In 2016, Azadeh was chosen by the Mundo Hispanico Newspaper as an Outstanding Person of the Year for defending the rights of immigrants in Georgia. In 2017, she was chosen by Georgia Trend Magazine as one of the 40 under 40 notable Georgians.
Catherine Gaffney – No More Deaths / No Más Muertes
Catherine Gaffney is a long-time volunteer with the group No More Deaths/No Más Muertes, a humanitarian aid organization working to end death and suffering on the US-Mexico border. Since 2009, she has worked with No More Deaths' desert aid project, which provides life-saving food, water, and medical aid on remote migrant trails in Southern Arizona, as well as served on the finance and fundraising teams. During her ten years with No More Deaths, she has helped launch a civilian search and rescue team responding to missing migrant cases, open a resource office for humanitarian aid in the borderlands community of Arivaca, and expand humanitarian aid efforts to the West Desert outside Ajo. Most recently, she has been a member of the legal support team supporting Dr. Scott Warren and eight other NMD volunteers facing federal charges for their humanitarian aid work. She recently moved to Atlanta to study to be a Physician Assistant at Emory, building on her years of patient care experience in the borderlands.

Jonathan González Quiel – Red Nacional en defensa del Agua, el Movimiento Continental de Afectados Represas, & Somos Abya Yala
Jonathan is an activist and defender of environmental rights in the northern western part of Panama. He completed a bachelor's degree in History and Geography at the Autonomous University of Chiriquí. For the past ten years Jonathan has supported collectives in protecting native land and water from hydroelectric companies, advocating for the conservation of the earth and Indigenous communities. Jonathan forms part of the Red Nacional en defensa del Agua (the National Network in Defense of Water), the Movimiento Continental de Afectados Represas (the Continental Movement of People Affected by Dams), and the communication platform Somos Abya Yala (We are Abya Yala).

Leslie Schuld -Director, Center for Exchange and Solidarity in El Salvador Centro de Intercambio y Solidaridad (CIS)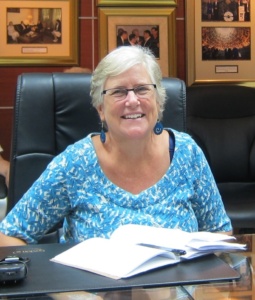 Leslie Schuld, is the Director of the Center for Exchange and Solidarity in El Salvador – CIS -.   She is one of the founders and has been living in El Salvador since 1993.
Leslie started off her dedication to solidarity with the people of El Salvador when she was just 18 years old, in her first year at the University of Dayton.  The war was breaking out, and she knew the U.S. Government was on the wrong side. She was one of the founders of the local chapter of Dayton CISPES – the Dayton Central America Solidarity Committee.  The chapter grew out of a visit from Fr. Roy to the university of Dayton showing the film Revolution or Death making her aware of the plight of the Salvadoran people.  
In 1983 she was arrested for trespassing at Ft. Benning, where she and two colleagues went onto the base and held a banner outside the graduation of Salvadoran soldiers that said "Salvadorans graduate to Genocide."   Fr. Roy, Fr. Larry and Linda heard the news from their jail cells and were elated that protests continued.  
When she graduated with a degree in history from the University of Dayton in 1984, she went to study Spanish in Nicaragua in the height of the U.S. backed Contra war, solidifying her commitment to change U.S. policy.  
Afterward she was elected to Regional director of Midwest CISPES in Chicago from 1985-1991.   In 1991, she was elected to a two year term as the National Program Director of CISPES and moved to Washington D.C. During that time the Peace Accords were being negotiated, and Leslie had the responsibility of dialoging with Salvadorans about what to do when the war ended.   The Salvadorans replied, even if the war ends, the root causes – social and economic inequality and lack of democracy and human rights, will still be present. They said there was a need to continue to organize international solidarity to build social and economic justice, democracy and human rights.   The idea for the CIS came about. When Leslie's two year term ended, the war had also ended, and Leslie volunteered to move to El Salvador to be part of a team to help found the CIS. The CIS is dedicated to building people to people solidarity in support of the struggle for peace and justice in El Salvador and human dignity. 
Leslie has a Masters degree in Human Right and Peace Education from the University of El Salvador. 
Rita Ellis – Founder & CFO of Paz Amigos
Rita is an immigrant – twice over – born in Scotland, raised in Canada and now a US citizen. Perhaps that is why immigration is so important to her. Rita believes that even if she was born here she would still be vigilant about ensuring a safe, fair and reasonable immigration policy. Her work with Paz Amigos has put more than a face on the current state of immigration, it has put the inhumanity of it all into perspective for her. She believes we MUST do better as Americans. Rita says it is a privilege to be part of a non-profit that makes a tangible difference here in Columbus, GA.  Rita owns a local business, is married to a local physician, has 3 kids, 2 grandkids and 2 pups.
---
Roy Bourgeois, Founder of SOA Watch
Born in Lutcher, Louisiana, Fr. Roy served as a Naval Officer for two years before entering the seminary of the Maryknoll Missionary Order. Ordained a Catholic priest in 1972, Roy went on to work with the poor of Bolivia for five years before being arrested and forced to leave the country, then under the repressive rule of dictator and SOA grad General Hugo Banzer.
In 1980 Fr. Roy became involved in issues surrounding US policy in El Salvador after four US churchwomen–two of them friends of his–were raped and killed by Salvadoran soldiers. Roy became an outspoken critic of US foreign policy in Latin America. Since then, he has spent over four years in US federal prisons for nonviolent protests against the training of Latin American soldiers at Ft. Benning, Georgia. In 1990, Roy founded School of the Americas Watch.
Candice Camargo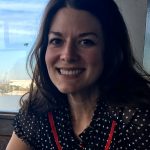 Candice is a Los Angeles-born activist living in Bogotá. She has spent the last decade supporting and accompanying nonviolent grassroots movements demanding social and environmental justice in the Americas. Prior to joining the SOA Watch staff collective as the Development Coordinator, she was the Executive Director of FOR Peace Presence and worked with Witness for Peace in Colombia. Candice graduated from Claremont McKenna College with a degree in Philosophy, Politics, and Economics.
Dévora González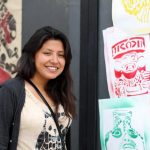 Dévora González is a mother to a wonderful little human named Tlecuiani. She is a Salvadoran-Guatemalan, descendent of Pipil and Mayan peoples, woman and mother that was born and raised in Los Angeles to migrant parents that found refuge in the city. Being raised in a Central American community, the political and historical knowledge she gathered stemmed from oral history and narratives of migration from her family, friends, and community. The gaps in her understanding led her to California State University, Northridge where she earned a Bachelor's degree in Central American Studies and Psychology and felt empowered to create positive change in her community.
Aware of the anti-migrant sentiment, structural border conditions that fueled deaths at the desert, and feeling a strong connection to the communities forced to migrate to the United States, she relocated to Tucson, Arizona in 2012. Since, she has been part of the Missing Migrant Crisis Hotline that was a project of the Coalición de Derechos Humanos and No More Deaths, has helped with abuse documentation for the report Deprivation, Not Deterrence by the Guatemala Acupuncture and Medical Aid Project (GUAMAP), and has been active in migrant rights work, resistance, and resilience of Border Communities in the face of militarization.