The result of the civilian-targeted warfare training provided at SOA/WHINSEC is lethally trained and militarized state "security" forces that lack oversight and target their own populations, disproportionately threatening Black and Brown communities. For 30 years, the SOA Watch Movement has organized to close the SOA/WHINSEC and similar training facilities, and to challenge the oppressive structures that lead to all forms of US-led violence against our communities. We join with communities and social movements throughout the Americas demanding accountability and fighting for their autonomy and dignity – together, we continue to fight for the closure of the School of the Assassins as well as to end all US intervention and US-led and supported state violence. Please take a look at the latest information we have about SOA/WHINSEC training of Latin American "security" forces as well as US "security" forces like Border Patrol and ICE staff.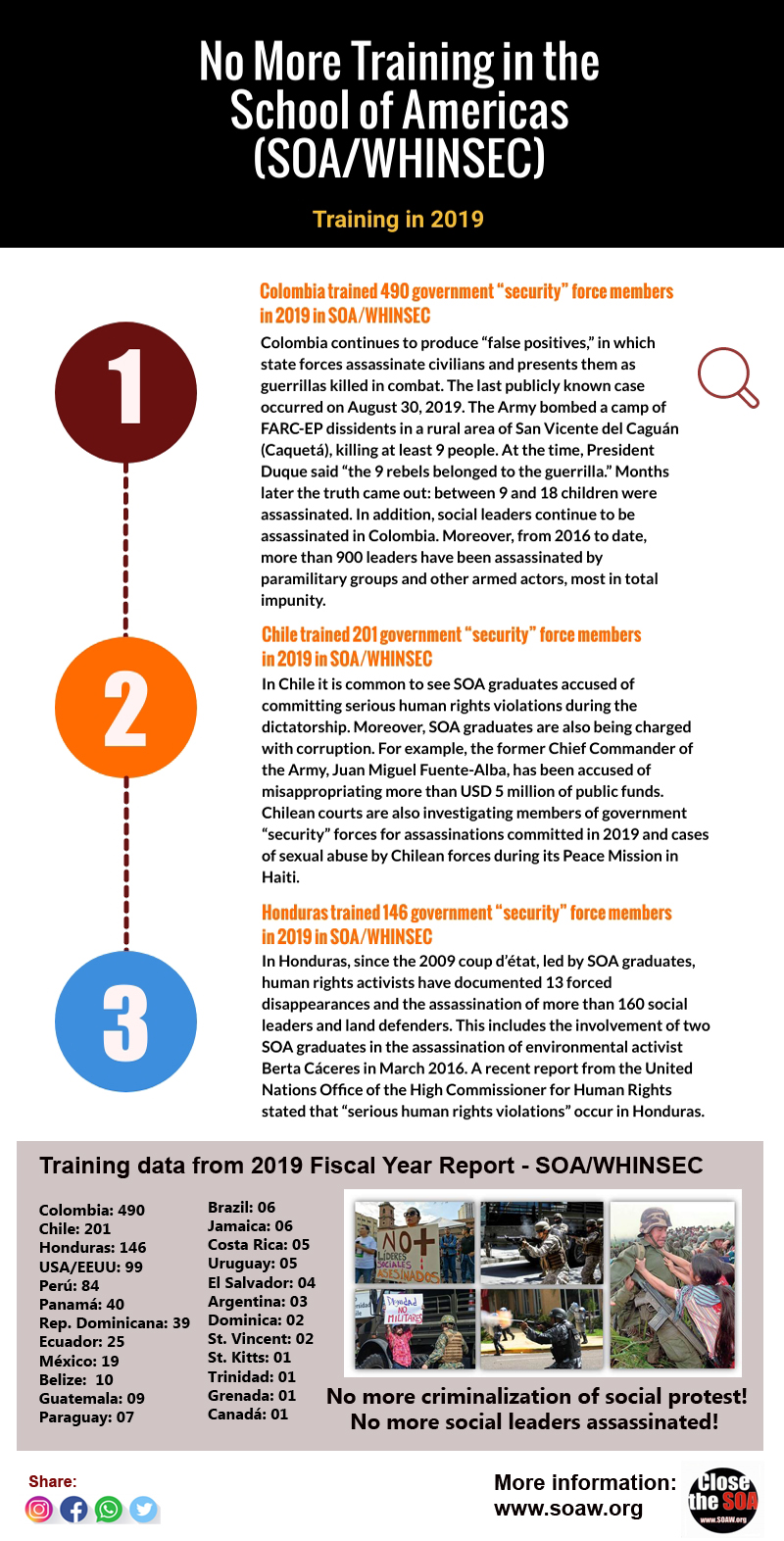 At the end of last year, SOA Watch Field Organizer, Dévora González wrote an article for Jacobin with Azadeh Shahshahani, Legal and Advocacy Director for Project South, outlining the egregious history and results of US training of Latin American state agents. The article also highlights how that training is now being provided to US Department of Homeland Security agents, specifically Border Patrol and ICE staff, for use against migrants and refugees at borders and within the US.
At SOA Watch, we demand an end to SOA/WHINSEC training and to the US-led and supported violence that devastates communities and is one of the root causes of forced migration North. The Guardian recently published that "more than two-thirds of the migrants fleeing Central America's northern triangle countries – Guatemala, Honduras and El Salvador – experienced the murder, disappearance or kidnapping of a relative before their departure, according to a new study by the medical charity Doctors Without Borders (MSF)".
This March 27th-29th, we will be working in collaboration with organizations like Stop US Arms to Mexico, No More Deaths, Alliance for Global Justice, Justice for José Antonio Collective, and Coalicion de Derechos Humanos to facilitate a weekend of panels and action in Tucson, Arizona to further our collective work to dismantle border imperialism and all forms of US-led and supported violence that threaten the well-being and autonomy of our communities and territories. Please make certain to register for the Training Day and Action Convergence in Tucson so that we know you will be joining us!
It is our obligation to continue to resist and stand in solidarity with the victims of US-led and sanctioned state violence to end these abominable patterns of violence and the structures that uphold them. If you are able, please consider making a tax-deductible donation of $10, $25, $50, $100, to strengthen our collective resistance as we move forward in this racist, xenophobic, and violent political climate. Together, we will win!
In solidarity,
Brigitte, Candice, Dévora, Pablo, and Roy
SOA Watch