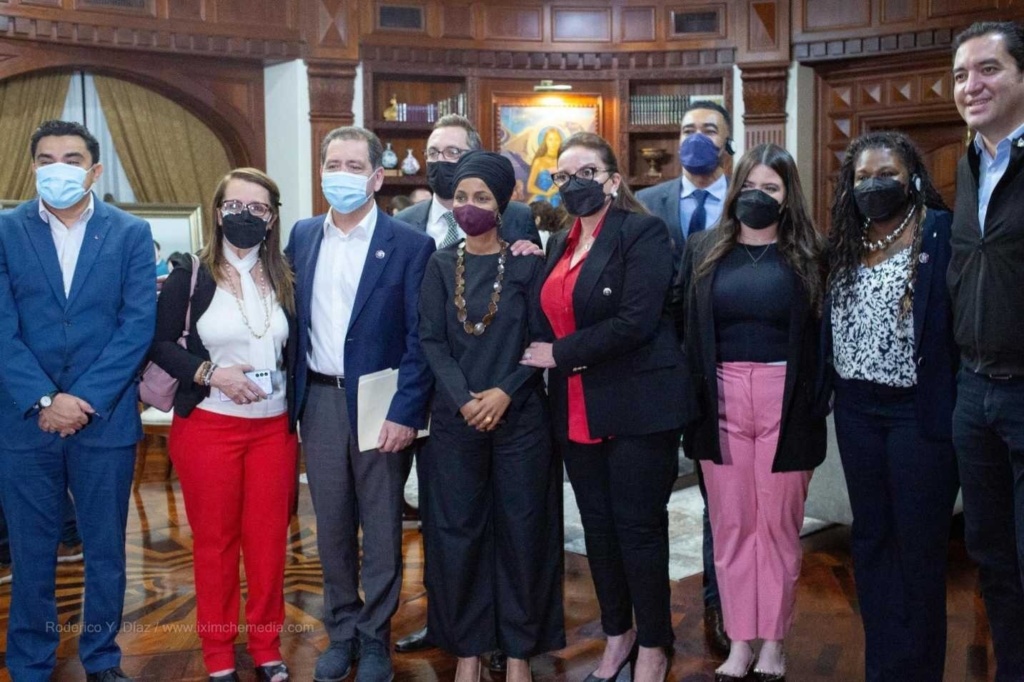 Honduras – A delegation of members of the U.S. House of Representatives and U.S. solidarity organizations met with President Xiomara Castro of Honduras this weekend. The delegation, organized by SOA Watch and WFP Solidarity Collective, included Representatives Ilhan Omar (MN-05), Jesús "Chuy" García (IL-04), Cori Bush (MO-01), as well as representation from the office of Jan Schakowsky (IL-09). President Castro is Honduras' first woman president and was inaugurated in January following historic elections in which the Honduran people turned out in massive numbers to reject the U.S.-backed regimes that have devastated Honduras since the 2009 coup d'état. 
President Castro and members of her cabinet shared key challenges facing Honduras following the Hernández dictatorship, including enormous debt that severely limits the new administration's ability to invest in schools, hospitals, and other urgently needed social programs. The regimes that governed Honduras over the past twelve years took out significant loans from international financial institutions such as the International Monetary Fund (IMF), while also emptying the country's coffers through widespread corruption. As a result, President Castro has inherited a government with debilitating debt and very few resources. 
President Castro also shared the steps her administration is making toward the demilitarization of society following twelve years of military repression and human rights abuses, including the withdrawal of the military from public spaces.
Additionally, the delegation met with the President of the Honduran National Congress, Luis Redondo, and members of the Honduran Congress' Foreign Affairs Committee, presided over by Xiomara Zelaya, who shared about the repeal of an Hernández-era secrecy law in order to facilitate the investigation of corruption as well as the passage of a new law recognizing the 2009 coup d'ètat and its victims. 
"After 12 years of dictatorship in Honduras it is uplifting to hear President Castro's commitment to uproot corruption and defend human rights. But for her administration to succeed, the U.S. must break from its history of human rights violations in the region that has driven internal displacement and migration for decades. Instead, we must actively promote equitable development and human rights in Central America," said Congressman Jesús "Chuy" García (IL-04). "I return home with a renewed determination to defend democratic governments like President Castro's throughout the Americas and work to protect oppressed communities in Honduras and around the world."
Representative Ilhan Omar (MN-05) said, "It has been inspiring to see the return of democracy and the will of the Honduran people represented by President Castro. It is an inspiring moment, and an opportunity for the United States to support her anti-corruption and human rights agenda. It will not be easy, but I look forward to continuing to work with President Castro and Honduran social movements to achieve a more just and peaceful future."
Representative Cori Bush (MO-01) said, ""As a nurse, activist, and St. Louis Congresswoman, I came to Congress to save lives and do the absolute most for those who have the least. This weekend's meeting with President Castro reaffirmed that our work as lawmakers must be rooted in protecting the human rights of marginalized communities across the globe. I am encouraged by what my colleagues and I discussed with the president, including solidarity in our effort to demilitarize our society and end government corruption. I look forward to working in partnership with President Castro, and with the social movements and community-led organizations in Honduras that are demanding accountability and justice."
"After years of a violent dictatorship, propped up by U.S. government policies, I am relieved that Honduras has a democratically elected president with a platform centered on human rights, economic reform, and anti-corruption," said Jan Schakowsky (IL-09).  "This is both an extremely hopeful and fragile time in Honduras. Under President Biden, we have an opportunity to support the democratic movements in Honduras. Past American policies have contributed to the death and destruction inflicted upon Honduras, especially on women, Indigenous and Afro-Indigenous communities, small farmer activists, workers, and LGBTQI people. It is time we chart a new course, one that allows President Xiomara Castro and the people of Honduras to fully realize their aspirations."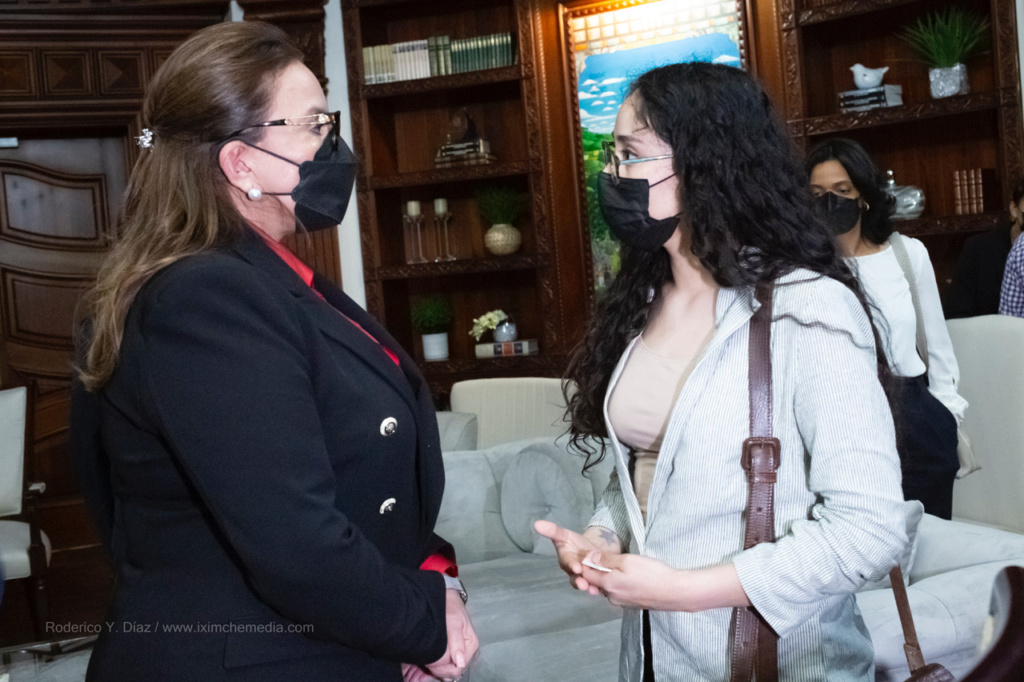 Statement from Brigitte Gynther of School of the Americas Watch and Allison Lira of Witness for Peace Solidarity Collective:
U.S. economic and political support was pivotal to ensuring the success of the 2009 military coup and the imposition of subsequent post-coup regimes. In particular, U.S. recognition of Juan Orlando Hernández's 'victory' in the clearly fraudulent 2017 elections was key to enabling him to stay in power for an illegal second term. 
The United States' continuous support for the post-coup regimes as they plundered Honduras enabled their access to loans from international financial institutions such as the IMF, where the U.S. maintains effective veto power.  Thus the U.S. bears significant responsibility for the enormous debt Honduras now faces. 
As a result, the U.S. must now lead the way in ensuring cancellation of Honduras' debt so that the new, democratically elected government has the chance to invest in education, health, and human rights. Honduran voters clearly rejected the continuation of a regime that facilitated massive looting of its healthcare and other public resources and it is worrisome that the new government's investment in these sectors will be limited by international financial institutions such as the IMF, which has deprioritized spending on health and human needs. 
While the U.S. has requested extradition of former president Hernández and the former head of Honduras' national police to face drug trafficking charges, it's not enough. Accountability for how the U.S. enabled, backed, and financed Hernández every step of the way and for U.S. financing, training, and equipping of the Honduran military and police as they committed human rights abuses and trafficked drugs is needed. Beyond working for the cancellation of Honduras' debt, the U.S. should take steps toward accountability, such as the declassification of U.S. documents related to the coup and its subsequent engagement with successive post-coup regimes in Honduras. 
What's really needed is for the U.S. to fundamentally reset its priorities in its relationship with Honduras. The U.S. should stop promoting neoliberal economic policies such as privatization of health care, education, and other essential public services, all of which has contributed to the massive inequality and poverty that have driven migration from Honduras. 
Across Honduras, organized communities are working to rebuild their nation after over a decade of post-coup rule marked by pervasive state violence, corruption and impunity. If the U.S. wants to be a true partner in their work to build a participative democracy and rule of law in Honduras, it should prioritize respect for the autonomy of the Honduran people and their democratically elected government.