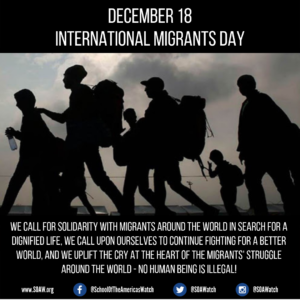 This December 18th, we celebrate International Migrants Day. First and foremost, SOA Watch expresses our love and solidarity with all people who are forced to flee their homelands.
According to the latest UNHCR report, "Global Trends: Forced Displacement in 2018", by the end of last year, "almost 70.8 million individuals were forcibly displaced worldwide as a result of persecution, conflict, violence, or human rights violations." In 2018, forced displacement was again at a record high. Nevertheless, numbers do not reflect how the situation is exacerbated by the increasing power of the Right globally, the closing and further militarization of borderlands, and the complete lack of accountability for state violence and neoliberal policies at the root of forced displacement from people's territories, communities, and families.
Today, we remember and stand with all the people who are victims of these deadly policies and strategies that uproot people from their homelands and then further dehumanize, criminalize, and stigmatize them when they migrate. Today, we also denounce the Prevention Through Deterrence strategy, which was first implemented in 1994 by the Clinton administration to "control [the] borders of the United States between ports of entry", forcing migrants through the most hostile terrain in such horrid conditions that the violence deters people from any attempt to cross. This strategy explicitly states that it seeks to put migrants in "mortal danger," providing the framework to vastly expand Border Patrol and impose deterrents in the form of checkpoints, towers, walls, helicopters, and weapons in vast areas of the desert. Additionally, Prevention Through Deterrence fosters the criminalization of migrants forced into for-profit detention centers, the separation of children from their parents, the destruction of vital humanitarian aid, and the criminalization of concerned civilians who provide humanitarian aid to migrants and refugees. Since its implementation, officially more than 3,000 people have died in Southern Arizona since 2001; however the true number of those who have died or disappeared is closer to 10,000 in Southern Arizona alone.
Last month, SOA Watch Field Organizer, Dévora González wrote an article for Jacobin with Azadeh Shahshahani, Legal and Advocacy Director for Project South, outlining the egregious history and results of US training of Latin American state agents and how that training is now being provided to US Department of Homeland Security agents, specifically Border Patrol and ICE staff, for use against migrants and refugees at borders and within the US. The article also highlights how in October of this year, a contract confirmed that Border Patrol purchased 33 million rounds of bullets from Winchester Ammunition with the possibility of purchasing over 330 million additional rounds over the next five years. This is extremely concerning given that nearly one hundred people have been killed by US Border Patrol as a direct result of their excessive use of force over the last 15 years. This includes the cross-border killings of 15-year-old Sergio Adrián Hernández Güereca in 2010 and 16-year-old José Antonio Elena Rodríguez in 2012 — both were killed by US Border Patrol agents who shot them from US soil when the teenagers were on Mexican soil. It is important to note that not a single Border Patrol agent has even been held legally accountable for these crimes and a recent internal government report even concluded that criminal misconduct by border officers is at a five-year high. Training of Border Patrol and ICE staff at Fort Benning, along with their increased firepower, will grossly exacerbate state violence against undocumented migrants and refugees at border crossings and within the United States.
At SOA Watch, we know that the result of the civilian-targeted warfare training provided at SOA/WHINSEC is lethally trained and militarized security forces that lack oversight and disproportionately target communities of color. It is our obligation to continue to resist and stand in solidarity with the victims of US-led and sanctioned state violence to end these egregious patterns of violence and the structures that uphold them. This March 27th-29th, we will be working in collaboration with other organizations to facilitate a weekend of panels and action in Tucson, Arizona to further our collective work to dismantle border imperialism and all forms of US-led and supported violence that threaten the well-being and autonomy of our communities and territories. We will be sending more information in the coming weeks.
We hope you will join us in Tucson and in our ongoing call for solidarity with migrants around the world who seek a dignified life. Together, we affirm the right to stay in one's homeland with dignity, we affirm the right to migrate, and we affirm that no human being is ever illegal. Together, we will continue to fight for a better and more just world!
In solidarity,
Brigitte, Candice, Dévora, Pablo, and Roy
SOA Watch