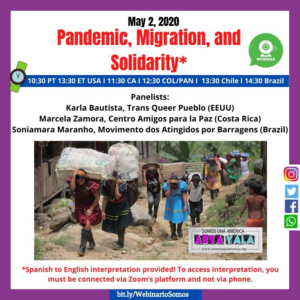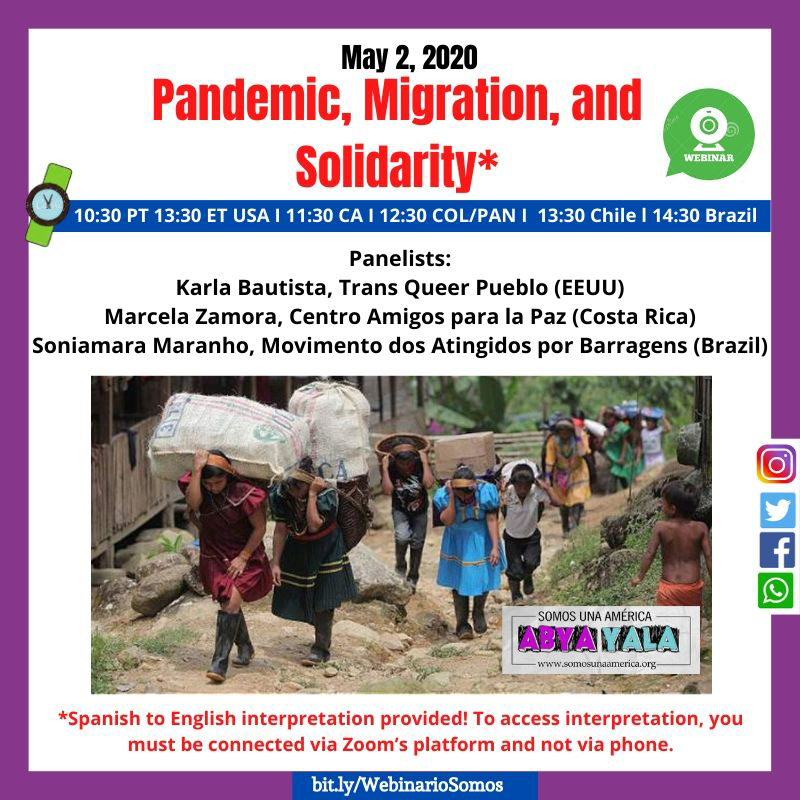 Webinar Pandemic, Migration, and Solidarity* l Pandemia, Migración y Solidaridades May 2, 2020 13:30 ET
In the midst of a global COVID-19 pandemic, the panelists will talk about the realities their communities are facing; how this global crisis is impacting forced migration; and the ways in which communities are organizing, resisting, and engaging in solidarity to survive. We will also reflect on how this global crisis is exposing structural injustice and inequality faced by our communities.
*Spanish to English interpretation provided! To access interpretation, you must be connected via Zoom's platform and not via phone.
Panelists:
Karla Baustista, Trans Queer Pueblo (EEUU)
Marcela Zamora, Centro de Amigos para la Paz (CAP) (Costa Rica)
Soniamara Maranho, Movimento dos Atingidos por Barragens (Brasil)
Hora // Time: 10:30 PT 13:30 ET (USA) l 11:30 Centro América I 12:30 Colombia/Panamá I 13:30 Chile l 14:30 Brasil
Karla Baustista, Trans Queer Pueblo (EEUU)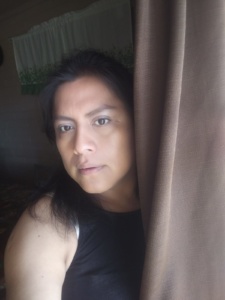 Working in conjunction with the Liberation Committee, under the leadership of LGBT + detained and previously detained migrants, Karla Bautista Chonay coordinates the Trans Queer Pueblo Liberation Project. The project works inside ICE detention centers, for the release of all detainees and the closure of all detention centers. They reject the concepts of criminalization and imprisonment, structures of colonialism and slavery, and promote everyone's right to migration, radical well-being, and self-realization. Today's COVID-19 pandemic makes their work even more urgent.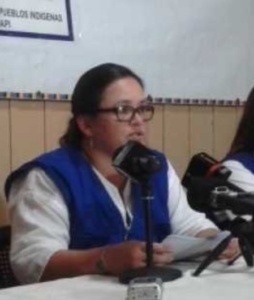 Marcela Zamora, Centro de Amigos para la Paz (CAP) (Costa Rica)
Marcela Zamora Cruz, is an alternative communicator, human rights defender, and member of the "Centro de Amigos para la Paz", Friends for Peace Center (CAP) in Costa Rica and part of the National Committee for Support for Indigenous Autonomy in her country. Marcela also participates in our Somos Abya Yala Platform and, together with CAP, is a militant against militarization and against what is taught at the School of the Americas.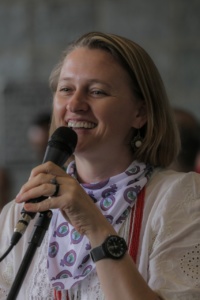 Soniamara Maranho, Movimento dos Atingidos por Barragens (Brasil)
Soniamara Maranho is part of the the national coordination of the "Movimento dos Atingidos por Barragens" Movement for Those Affected by Dams (MAB-Brazil). For over 15 years, she has been a militant for the rights of families affected by hydroelectric projects and mining dams, and also fights for popular sovereignty over energy resources. She is also part of the Movement for Those Affected by Dams in Latin America – MAR
Somos Abya Yala – Somos una América
http://www.somosunaamerica.org/