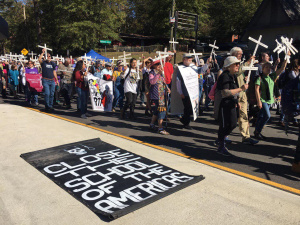 Four of the former Colombian military personnel arrested for the assassination of the Haitian President were trained at WHINSEC.
They took courses in counter drug operations, cadet leadership development, noncommissioned officer development and small unit leader training between 2001-2015, according to information the Department of Defense provided to the Columbus Ledger-Enquirer. A total of 7 of those arrested for the assassination to date were trained by the United States.  In addition to WHINSEC, others received training in Washington, D.C.

Since 2005, the Pentagon has refused to release the names of WHINSEC graduates. We only know that WHINSEC trained some of those accused of the murder of the Haitian President because it is a high-profile crime that journalists are asking questions about.

Every year, WHINSEC trains 1,200-1,900 military and police personnel from Colombia, Honduras, Chile, and throughout the hemisphere. How many other human rights abuses and murders have been committed by recent WHINSEC graduates?

The Pentagon should release the names of all WHINSEC graduates NOW.

The WHINSEC training of four of those arrested for the assassination of the Haitian President is a continuation of the long and bloody history of the U.S. in Haiti. SOA Watch stands with the Haitian people who are facing violent repression as they demand the right to determine their own future.  Furthermore, it is far past time for the U.S. to stop training, equipping, and funding military and police in Haiti, Colombia, and around the hemisphere.