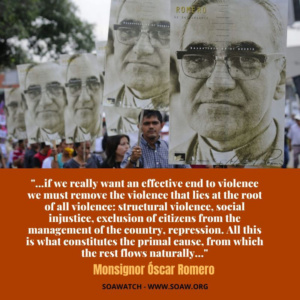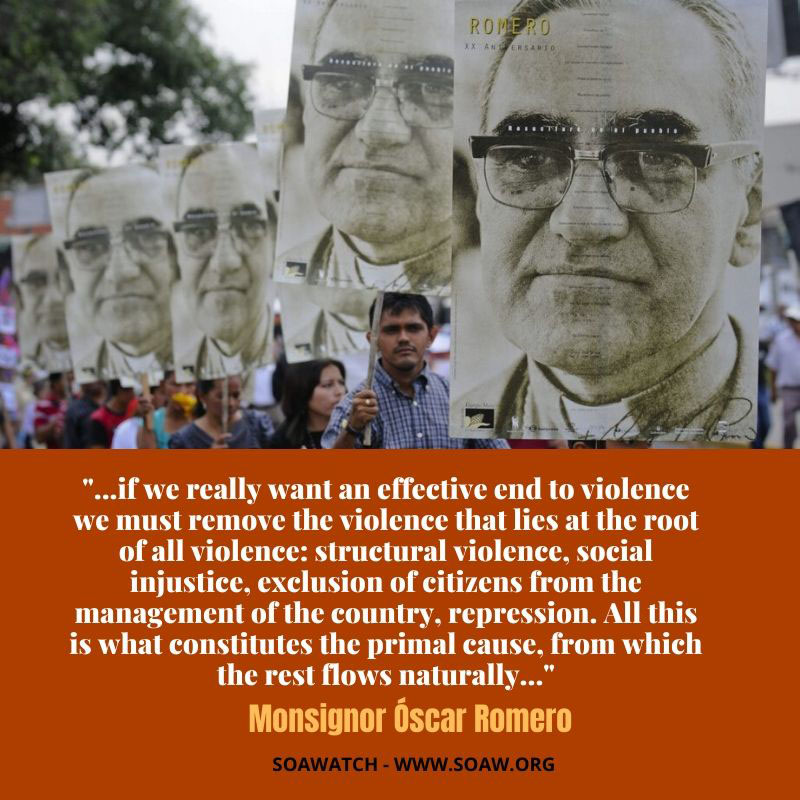 This March 24, in the midst of the worldwide COVID-19 crisis, we commemorate the 40th anniversary of the assassination of Monsignor Óscar Romero and remember the 75,000 individuals assassinated with US support during El Salvador's civil war. Today also marks the 44th anniversary of the military coup in Argentina.
Given the magnitude of the current health and humanitarian crises, activists and human rights defenders throughout the continent are being forced to find alternative ways to commemorate these historical moments. In Argentina, for example, las Abuelas de Plaza de Mayo and Madres de Plaza de Mayo cancelled the March for Memory, Truth, and Justice. Organizers recognized the gravity of the cancelling this action, but also affirmed "caring for the population requires responses based on solidarity to contribute to prevention and to the health of our people." They called on Argentineans "to remember and vindicate the revolutionary struggle of our children and pay homage to those disappeared in however we can," as the country is currently under mandatory preventive quarantine.
To date, many Latin American countries have declared a state of national emergency regarding the virus, including Peru, Colombia, Chile, Ecuador, Argentina, Bolivia, and El Salvador, and the list grows longer every day. Under these declarations, governments are taking increasingly drastic measures to prevent the exponential spread of the virus that other countries have faced and avoid overwhelming often precarious healthcare systems. These measures include limiting contact between individuals, imposing mandatory quarantines, prohibiting gatherings of all kinds, restricting movement within and between cities and regions, closing national borders, and halting all non-essential commerce, among others. Many countries have deployed their police and military to enforce these restrictions. While significant measures must be taken to prevent the spread of COVID-19 and avoid needless deaths, past and present struggles to curb authoritarianism and state violence throughout the Hemisphere remind us that even in moments of great uncertainty and fear, we must remain vigilant in our defense of human rights and the dignity of our communities.
We have already witnessed the use of excessive force by security forces against civilians in the context of the COVID-19 crisis. This past weekend, protests broke out in different Colombian prisons after authorities failed to respond to the plight of incarcerated individuals, as dramatic overcrowding means the disease would sweep through prisons, while the limited access to healthcare and poor nutrition would cause many avoidable deaths. The protests were met with violence. In one prison, at least 23 detained individuals were killed, and many more were injured when guards fired at protestors and fires were started.
Government leaders from other countries in the region have also shown authoritarian tendencies that must be kept in check during this crisis. For example, two months ago the president of El Salvador, Nayib Bukele, burst into Congress, flanked by members of the police and military, to demand legislators approve a loan he requested, and has recently stated he would use military force to break up groups during the COVID-19 health crisis.
Similarly, just days after assuming her role as interim President of Bolivia, Jeanine Áñez received international condemnation when she  issued a decree exempting the military from any type of criminal responsibility for actions taken when maintaining order. One day later, security forces fired on anti-Áñez coca farmers protesting in Cochabamba, killing nine and injuring dozens more. As a result of the public health crisis facing Bolivia, the Supreme Electoral Tribunal recently postponed the presidential elections scheduled for May 3, but has not yet set a new date. We must remain vigilant and ensure leaders do not take advantage of this state of emergency to entrench autocratic tendencies, silence dissent, or indefinitely postpone elections.
As borders are closed across the world amidst the COVID-19 pandemic, we demand the immediate liberation of families and individual migrants who are still locked in detention facilities fearing for their lives. We also denounce the draconian changes to immigration policy made recently by the Trump administration via the Migrant Protection Protocols, which detains refugees seeking to enter the US in Mexico in order to access the US asylum process. These families and individuals are often forced to live in overcrowded tent cities and shelters where they are medically and otherwise vulnerable and utterly marginalized in this global health crisis.
We must remain vigilant, we must continue to organize together and uplift our communities, and we must not forget that restrictions on movement, employment and isolation may have disproportionate and negative impacts on homeless people, informal workers, women and children at risk of domestic violence, migrants, persons deprived of their liberty, and those in areas without access to quality healthcare services, among others. Even during times of emergency, any restrictions on rights must be necessary, proportionate, limited in time, and must be the least restrictive measures to facilitate an adequate response to the crisis. Additionally, we must remember that restrictions on rights must be non-discriminatory.
During this period of great fear, uncertainty, and both figurative and literal separation we recommit ourselves to fighting for the wellbeing of our communities and against all forms of violence and injustice together. We uplift the words of our martyrs like Monsignor Óscar Romero:
…if we really want an effective end to violence we must remove the violence that lies at the root of all violence: structural violence, social injustice, exclusion of citizens from the management of the country, repression. All this is what constitutes the primal cause, from which the rest flows naturally.
Throughout Abya Yala (the Americas) we have lived very difficult moments, which we have fought to overcome, and in which solidarity has played a fundamental role in moving forward. In these moments, our struggle for collective liberation and for the dignity for all our communities continues together.
Monsignor Óscar Romero, ¡Presente!
In memory, continued resistance, and solidarity,
Brigitte, Candice, Dévora, Pablo, & Roy
SOA Watch
PS Recently we shared that SOA Watch also made the difficult decision to indefinitely postpone the 2020 Training Day and Action Convergence in Tucson. However, we have followed the example of the Madres de Plaza de Mayo and so many other compas throughout the Hemisphere to continue organizing and building our collective resistance however we can. We hope you will join us Saturday, April 4th and Sunday, April 5th for a series of webinars we are organizing with Alliance for Global Justice, Stop US Arms to Mexico, No More Deaths, Veterans for Peace, and other compas. Together, we will examine the impacts of US-backed state violence throughout the Hemisphere, the root causes of forced migration, and the ways that we can nourish our collective work by understanding and creating effective narratives, as well as engaging in mutual aid, research, and lobbying. Later this week, we will send out an email with more details about the webinars and information on how to register!