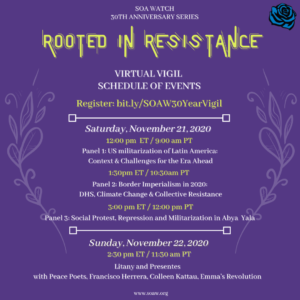 Join us this weekend – Saturday, November 21st and Sunday, November 22nd – for the third event of our SOA Watch 30th Anniversary Rooted in Resistance Series! 
This weekend's virtual events and spaces are free, bilingual (Spanish and English, interpretation will be provided) and all are welcome!
REGISTER FOR THE SOA WATCH 30TH ANNIVERSARY VIGIL HERE*
*Note: You will receive an email confirmation with all the links for Saturday's panels and Sunday's litany and presentes immediately upon registering.
If you would like to participate in the weekend's events on social media instead of Zoom, then join us via Facebook Live for the Spanish broadcast or via YouTube for the English broadcast. 
Saturday, November 21st — Virtual Panels
12pm Eastern / 9am Pacific
—
US Militarization and Imperialism in Latin America: Context & Challenges for the Era Ahead
Panelists
Abilio Peña Buendía — Abilio is a Colombian theologian, philosopher, and human rights defender. He is an associate member of the Franciscan Community of Our Lady of Lourdes in Rochester, Minnesota; part of Collective Ansur; and is the co-secretary of the International Christian Service of Solidarity with the Peoples of Latin America, Oscar Arnulfo Romero SICSAL, where he helps coordinate the gobal alliance of Convida20.
Ana Esther Ceceña — Ana is the coordinator of the Latin American Observatory of Geopolitics, which studies, theorizes and maps contemporary processes of domination and resistance. She is an economist of Mexican nationality, expert in geopolitics and researcher and professor at the Universidad Nacional Autónoma de México (UNAM).
Kortiza Ortez & Diego Aguilar — Koritza and Diego are part of MADJ (Movimiento Amplio por la Dignidad y Justicia), which is a social and political movement committed to the struggle to build and develop, in Honduras, a popular proposal against corruption and mismanagement of public goods and in favor of a society that grows from transparency, dignity and respect for human rights and the environment.
Pierre Labossiere — Pierre is Co-Founder of the Haiti Action Committee (HAC) and the Haiti Emergency Relief Fund (HERF) established in the Bay Area in 1991 and 2004 respectively. Working with Haiti's grassroots movement that is engaged in the struggle for justice and democracy, HAC and HERF provide information regarding conditions on the ground, assist refugees and support community-based initiatives and institutions working for the liberation and the rebuilding of Haiti.
This panel will be moderated by Brigitte Gynther of the SOA Watch staff collective.
1:30pm Eastern / 10:30am Pacific
—
Border Imperialism in 2020: DHS, Climate Change, & Community Resistance
Panelists
Azadeh Shahshahani — Azadeh is the Legal & Advocacy Director at Project South and has worked for a number of years in the US South to protect and defend immigrants and Muslim, Middle Eastern, and South Asian communities.
Eduardo Correa — Eduardo is a Latin-Americanist and research professor at the Universidad Autonoma de la Ciudad de México (UNAM) Human Rights graduate program and part of the Observatorio de Derechos Humanos de los Pueblos.
Paige Corich-Kleim — Paige is a volunteer with the humanitarian aid organization No More Deaths. No More Deaths has a mission to end death and suffering on the US-México border. They leave food and water on migrant trails and provide first aid to people crossing the Arizona desert.
This panel will be moderated by Dévora González of the SOA Watch staff collective.
3pm Eastern / 12pm Pacific
—
Social Protest, Repression and Militarization in Abya Yala
Panelists

Ana Lilia Félix Pichardo — Ana Lilia is of Mexican nationality and has her master's degree in political science. She is an independent writer and is part of various organizing platforms, including "Abajo y a la izquierda" in Zacatecas, México, and well as Somos Abya Yala.
Laura Rojas Padgett — Laura is Nicaraguan and Costa Rican, currently living in Guatemala. She is a social worker, investigator, and defender of human rights and Mother Earth. She is a member of the a member of the Red de Integración Orgánica-RIO as well as the Observatorio de Derechos Humanos de los Pueblos.
Luz Mery Panche Chocué — Luz Mery is Nasa from San Vicente del Caguán, Caquetá, in the Colombian Amazon region. She is a human rights and environmental defender and belongs to the Association of Indigenous Councils of San Vicente del Caguán as well as the Coordinación Étnica Nacional de Paz Cenpaz
This panel will be moderated by Pablo Ruiz of the SOA Watch staff collective.
Sunday, November 22nd — Virtual Litany & Vigil

2:30pm – 4pm Eastern / 11:30am – 1pm Pacific
—
Join members of the SOA Watch Musicians Collective (Francisco Herrera, Colleen Kattau, Emma's Revolution, Charlie King, and Lumi & Lu Aya from the Peace Poets) for an online community gathering as we remember and uplift our martyrs and recommit ourselves to the continued struggle to dismantle US imperialism and defend our communities and environment around the globe! ****We invite you to bring something of symbolic importance to you for the presentes — photos, flowers, names, candles, etc. — to accompany us during the gathering.****
As we face an increase in authoritarianism and violence against our communities throughout the Americas, we join together this weekend to nourish and strengthen our critical organizing and resistance to demand accountability, dismantle US imperialism, and fight for the collective liberation of our communities! Together, we resist!
We recognize that recent months have been incredibly challenging for most and that many people are facing emotional, physical, and financial hardships. If you have the means, please consider making a tax-deductible donation to support our ongoing work to end all forms of violence against our communities. Thank you for believing in our work and for being part of the SOA Watch family — our work would not be possible without you!

See you this weekend!!
In continued solidarity & resistance,
Brigitte, Candice, Dévora, Pablo, and Roy
SOA Watch