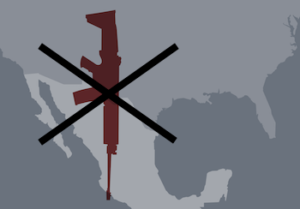 As the attention of the country focuses on the white supremacist violence that terrorized the U.S. Capitol, we must acknowledge that white supremacy and U.S. policy inflict terror on communities across the globe every single day. The work to dismantle white supremacy and U.S. empire is urgent and ongoing. 
Today we share with you an action opportunity to address one small piece of the how the U.S. exports violence, in this case an opportunity from the Stop U.S. Arms to Mexico campaign to reduce the U.S. guns that are trafficked and exported to Mexico. Between 2014 and 2019, the Department of Justice verified that 70,128 firearms produced or sold in the United States were recovered at crime scenes in Mexico. U.S. guns are used to commit horrific crimes, including the forced disappearance of the 43 Ayotzinapa students. Furthermore, between 2018 and 2019, the Jalisco New Generation Cartel literally purchased parts for grenade launchers, rifles, and other military equipment on eBay for shipment to Mexico from the United States.
Representatives Raúl Grijalva (AZ) and Alan Lowenthal (CA) are circulating a letter addressed to Joe Biden about gun exports and gun trafficking to Mexico, urging the incoming administration to "work with Congress and take strong executive action to curtail the legal and illegal export of weapons to Mexico".
As the letter explains, "U.S. weapons in the hands of Mexican security forces have also been linked to serious human rights violations. There is extensive evidence that U.S.-produced firearms have been exported to security force units involved in some of Mexico's worst human rights violations, including the massacre of the 43 Ayotzinapa students in September 2014 who were 'forcibly disappeared' by local police armed with AR6530 rifles, legally supplied through licensed shipments from Colt." You can read the full letter here.
There is an opportunity to change U.S. policy on this issue, which is why we are sharing this action alert right now. Please contact your Representative in one or both of the ways below (particularly if you think your Representative might be open to supporting this) and ask them to sign onto the Grijalva-Lowenthal letter to build momentum for the incoming administration to address trafficking and exports of U.S. guns to Mexico:
1. Call the Capitol Switchboard at 202-224-3121 and ask for your Representative's office (to find out who your Representative is, click here). Here is sample of what to say:
"I am calling to ask Representative _____ to join Representatives Grijalva and Lowenthal in urging President-Elect Biden to work with Congress to take strong executive action to curtail the legal and illegal export of weapons to Mexico. Data clearly shows that arms legally and illegally exported to Mexico have been directly involved in human rights violations, cartel violence, and the death of innocent civilians. Please contact Marilyn Zepeda in Rep. Grijalva's office to add your name to the letter they are sending to Joe Biden. The deadline to sign on is January 15th."
2. E-mail your Representative by clicking here.
Thank you,
SOA Watch