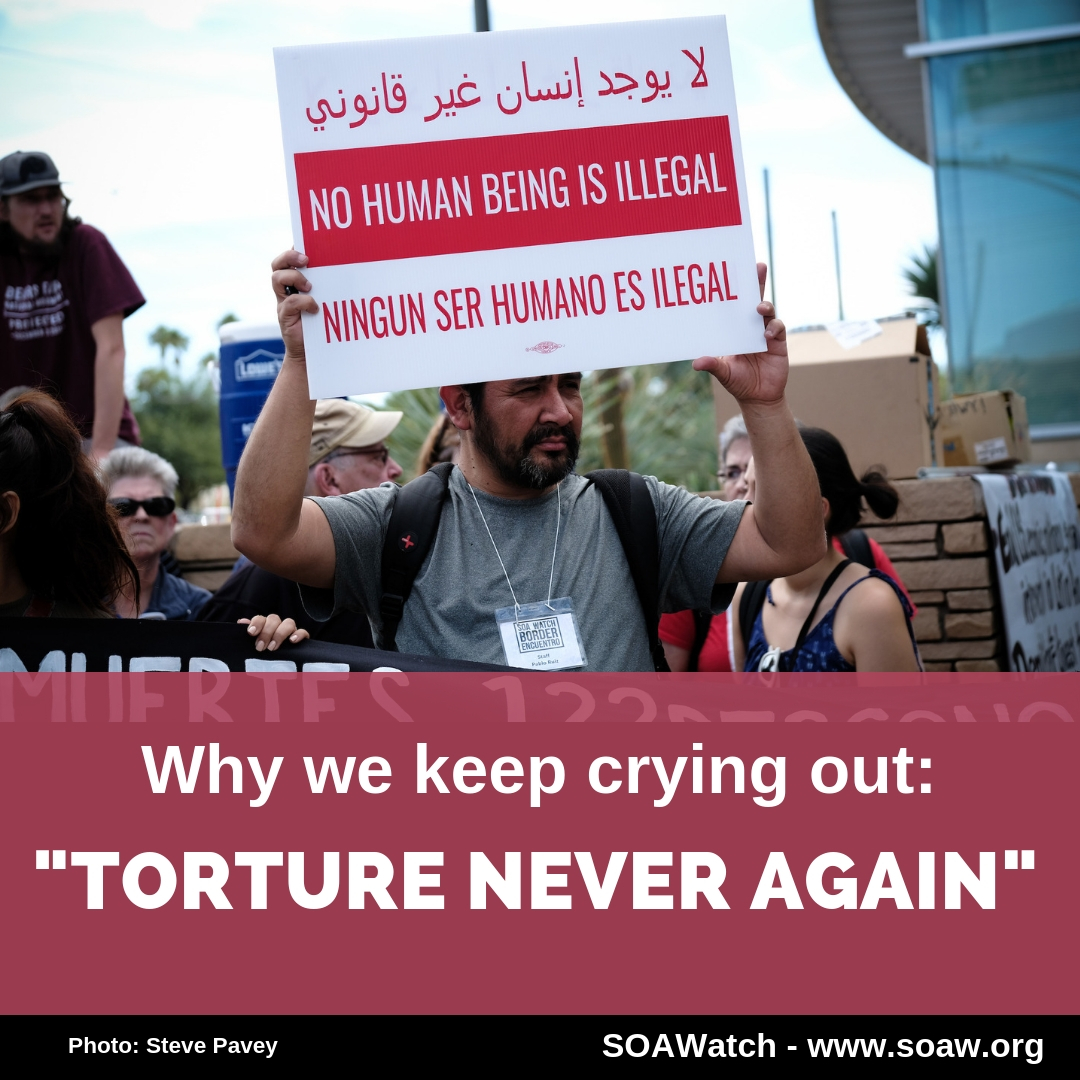 My name is Pablo Ruíz, and I'm a survivor of torture and part of the SOA Watch staff. I'm writing to you because June is Torture Awareness Month, and today, June 26, is the International Day in Support of Victims of Torture. Almost 20 years ago, in 2000, I learned about the violence of the School of the Americas (SOA) from an activist in Minnesota named Eduardo Villaseca. It was through Eduardo that I learned about SOA's brutality and the terrible significance that this military academy has had on Latin America – including instructing Latin American military officials on torture techniques.
But my own personal experience years prior had taught me as much. In 1989, I was arrested and held as a political prisoner for two years for my resistance work against the US-supported military government in Chile. During this time, I was brutally tortured, though fortunately, I was among those who survived. Many others didn't — the military dictatorship murdered and forcibly disappeared more than 3,225 people.
What I have learned over the years is that many of the murderers and torturers that made up the intelligence agencies and the death squads across the region were trained by the United States at the School of the Americas. Learning this history of the SOA and the damage it inflicted on South and Central America, made my world came full circle — allowing me to better understand the broader context behind what I had experienced. I know now more than ever that the story of blood, of terror, of pain, is long. There are thousands and thousands whose lives were taken, yet their spirits remain with us every day as we continue to struggle against this violence. They are present every day in our struggle.
In Chile, in 2003 and 2011, Truth Commissions were established that investigated the crime of torture – one that is considered a crime against humanity. Throughout the Commissions, more than 37,000 testimonies of political prisoners and torture survivors were heard — each testimony demonstrating the violence they had experienced. Nevertheless, many others will never be heard. Those of us who survived live today with pain and with psychological and physical scars — with many dying younger than the average life expectancy.
In his book, The Letters That Never Came, Mauricio Rosencof states that "if there is nothing left, one must shout" and that "silence is the true crime against humanity." Shouting against this violence, past and present, is why the work of SOA Watch is so important and why we need to amplify our collective voices in resistance. That is why this week in Chile, we participated in a March Against Impunity so that those who tortured and violated human rights, many of whom were trained at the SOA, do not continue to walk freely in the streets. It is why I participate in forums and other public events in Chile to cry out for justice and for those responsible for torture, disappearances, and other brutal crimes be held accountable. Will you make a tax-deductible donation today of $10, $20, $50, $100 or more to help continue my work for historical memory with SOA Watch? With your help, our voices will ring loud and clear.
In solidarity,
Pablo Ruíz
SOA Watch