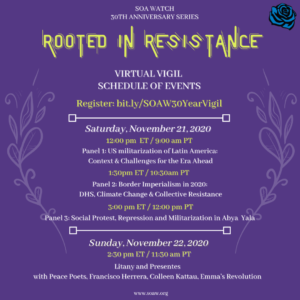 On Saturday, November 21st, we will facilitate three virtual panels about the historic and current impacts of US Empire throughout the Americas and the powerful movements organizing to defend the autonomy and dignity of our communities. On Sunday, November 22nd, we will be hosting our annual vigil, including presentes and litany with the support of the SOA Watch Musicians Collective.
The weekend's virtual events and spaces are free, bilingual (Spanish and English, interpretation will be provided) and all are welcome!
REGISTER FOR THE SOA WATCH 30TH ANNIVERSARY VIGIL HERE*
*Note: You will receive an email confirmation with all the links for Saturday's panels and Sunday's litany and presentes immediately upon registering.
Saturday, November 21st — Virtual Panels
12pm Eastern / 9am Pacific
US militarization of Latin America: Context & Challenges for the Era Ahead
1:30pm Eastern / 10:30am Pacific
Border Imperialism in 2020: DHS, Climate Change, & Community Resistance
3pm Eastern / 12pm Pacific
Social Protest, Repression and Militarization in Abya Yala
Sunday, November 22nd — Litany & Virtual Vigil

2:30pm – 4pm Eastern / 11:30am – 1pm Pacific
Join members of the SOA Watch Musicians Collective (Francisco Herrera, Colleen Kattau, Emma's Revolution, and Lumi and Lu Aya from the Peace Poets) for an online community gathering as we remember and uplift our martyrs and recommit ourselves to the continued struggle to dismantle US imperialism and defend our communities and environment around the globe! We invite you to bring something of symbolic importance to you for the presentes — photo, flower, names, candle, etc. — to accompany us during the gathering.   
As we uplift our 30th year as an organization, we also remember that throughout the Americas, we have lived very difficult moments, which we have fought hard to overcome. While Trump has been voted out of office in the US, we must remain vigilant, continue to organize, and nourish our communities — our collective struggle to end all forms of US-supported violence and injustice continues together!
Brigitte, Candice, Dévora, Pablo, and Roy
SOA Watch
REGISTRATION: Rooted in Resistance Virtual Panels & Vigil – November 21 & 22, 2020